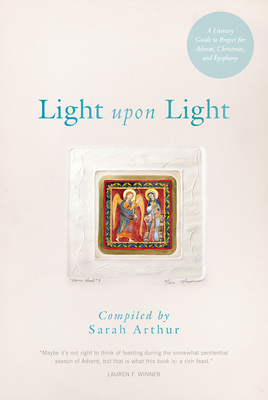 Light Upon Light
A Literary Guide to Prayer for Advent, Christmas, and Epiphany
Paperback

* Individual store prices may vary.
Description
"As Lauren Winner says "Maybe it's not right to think of feasting during the somewhat penitential season of Advent, but that is what this book is: a sumptuous feast." 

In keeping with At the Still Point: A Literary Guide to Prayer in Ordinary Time ("a thing of beauty" and "a literary treasure trove and devotional feast," two reviewers called it) this collection contains daily and weekly inspirational readings to help the reader prayerfully experience God through the liturgical seasons of winter. Well-loved classics by Andersen, Dickens, and Eliot join contemporary works by Frederick Buechner and Gary Schmidt. Poems by Donne, Herbert, and Rossetti are paired with newer voices: Scott Cairns, Benjamín Alire Sáenz, Susanna Childress, and Amit Majmudar. Readers are invited to experience Advent, Christmas, and Epiphany in its raw strangeness, stripped of sentiment, and to turn toward Emmanuel.
Praise For Light Upon Light: A Literary Guide to Prayer for Advent, Christmas, and Epiphany…
"You're invited to a feast this Christmas. Sarah Arthur, editor of the collection At the Still Point: A Literary Guide to Ordinary Time, has published another volume with Paraclete Press, Light Upon Light: A Literary Guide to Prayer for Advent, Christmas, and Epiphany. If you've prepared for past Christmas seasons with the help of God With Us, Image's own book of meditations from some of our favorite spiritual writers, you'll find Light Upon Light to be another rich tapestry of poetry, fiction, and scripture...You'll find food for nostalgia as well as delightful new voices, including Arthur's own. In short: both spiritual succor and pure pleasure." —Image Update 

"Each year I look for ways to make the Advent season more meaningful. It can be surprisingly hard to find something fresh and new. But a new release compiled by Sarah Arthur, Light upon Light, is my pièce de résistance for this year. As Arthur says in her introduction: 'Finding the works for this collection, discovering some of these authors and poets, has been like lighting one candle after another. Flame upon flame, light upon light, until the hallowed sanctuary of our quiet devotion becomes something of a shrine.' Her book lives up to that description." —JoHannah Reardon, Christianity Today

"For years I have been seeking a book which weaves scripture, prayer and the finest poetry and fiction into the devotional experience of Advent, Christmas, and Epiphany. Finally I have found it: an elegant and accessible gem with some classic texts and a rich selection from contemporary literature. This is not only a useful book, it is edifying and exciting reading—the perfect way for the literature lover to focus, meditate and celebrate this time of year." —Jill Peláez Baumgaertner, poet, professor of English and Dean of Humanities and Theological Studies, Wheaton College

"In our individual darknesses we long for more light. Sarah Arthur understands this, and, as if pulling together scores of candles with burning wicks, she illuminates our whole year with the gift of flaming words. A treasure of enlightenment." —Luci Shaw, author of Breath for the Bones and Adventure of Ascent

"A beautifully navigated journey through a treasury of literary wisdom—a book to cherish." —Jeremy Begbie, professor of theology and director of Duke University Initiatives in Theology and the Arts
Paraclete Press, 9781612614199, 192pp.
Publication Date: October 1, 2014
About the Author
Sarah Arthur is a fun-loving speaker and the author of ten books ranging from popular devotionals to serious engagement with theology and literature. A graduate of Wheaton College and Duke Divinity School, she speaks around the country on the role of imagination and narrative in spiritual formation. She is the editor-curator of Paraclete Press's At the Still Point: A Literary Guide to Prayer in Ordinary Time (2011) and Light Upon Light: A Literary Guide to Prayer for Advent, Christmas, and Epiphany (2014). When she isn't chasing two small boys around the house, Sarah can be found gardening, writing young adult novels, and volunteering in youth ministry at Sycamore Creek United Methodist Church in Lansing, MI, where her husband, Tom, is pastor. www.saraharthur.info