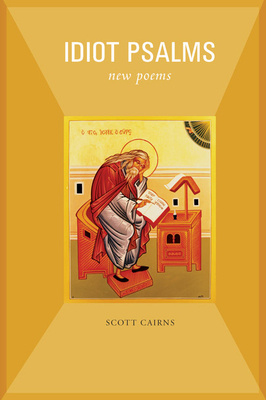 Idiot Psalms (Paperback)
New Poems (Paraclete Poetry)
Paraclete Press, 9781612615158, 96pp.
Publication Date: February 1, 2014
* Individual store prices may vary.
Description
Idiot Pslams was called the "Best Poetry Book of the Year" by Englewood Review of Books. 
About the Author
Scot McKnight, Ph.D. is Julius R. Mantey Professor of New Testament at Northern Seminary in Lombard Illinois. He is the award-winning author of The Jesus Creed, 40 Days Living the Jesus Creed, The Real Mary, Embracing Grace and Praying with the Church. Scot lives with his wife, Kristen, in the Chicago suburbs and has two children, Laura and Lukas, and two grandchildren.
Praise For Idiot Psalms: New Poems (Paraclete Poetry)…
In Idiot Psalms, just published by Paraclete Press, Scott Cairn's new book of poetry takes off with "High Plane," an almost sonnet, almost blank verse poem whose musicality makes melodious revisions in the tentative descriptions of flight, life, and the divide between knowing and remaining open to the unknown. The poem and its placement before the beginning of the IV sections give us a preface and a hint of the poetic questionings yet to come.

In the first poem of the first section, for example, "Parable" asks "To what might this slow puzzle be compared?" as we try out metaphors that might clarify the mystery of "The Vast and Inexplicable" even though none "quite seems to satisfy."

Gliding on to "Threnody," I halted mid-flight to look up the title word, which means a lament that, in this instance, refers to a recurrent dream of a deceased parent, returning where "none of us/ dares speak, neither of his death nor/ of his sudden, startling return." The inexplicable continues in "Irreducible is what I'm after," where "words are more precise or less precise, but they/ are not exact…" so that "even as/ I speak I see my good intentions leaping clean/ beyond my reach…."

In "Idiot Psalm 1," we encounter Isaak, just "shy/ of immolation," who, having been let off the sacrificial hook, sees God as "Beloved if obliquely so." Later, in "Idiot Psalm 4," this son of Abraham admits, "If I had anything approaching,/ a new song, surely I would sing" – an admission most of us might well make from almost any unfavorable condition or position into which we've been tightly wedged for far too long. And yet, tension-relievers come as we "keep things metaphorical/ and in so doing hope to keep/ anxiety at bay…." or as we witness the wit drawn when "the sea will of occasion/ skip the boats like flat stones back to shore."

Consistently, honest observation and insight speak through these poems such as "Two Trees," where we might get beyond that initial quest for knowledge of good and evil and "move finally/ to the second tree, long/ abandoned, all but lost/ to tribal memory." Although this tree of life "stands to quicken any who/ would care to eat of it," the poem "Heavenly City" reminds us "The world remains a puzzle/ no matter how many weeks one stands/ apart from it, no matter how one tries/ to see its troubled surfaces, or hopes/ to dip beneath them for a glimpse of what it is/ that makes this all appear to tremble so."

And yet, the difficulty of the search does not deter Scott Cairns from seeking to define the mystery, for example, in "Idiot Psalm 10" where glimpses of God occur metaphorically as the "Hidden Hand upholding" and the "Great Zookeeper, attending" and the "Most Secret Agent of our numberless/ occasions…."

As we near the end of the book, the poem "Draw Near" concludes with this admission: "I have no sense of what this means to you, so little/ sense of what to make of it myself, save one lit glimpse/ of how we live and move, a more expansive sense in Whom." That "Whom" clarifies with the "Annunciation" where "we all become/ the kindled kindred of a king whose birth/ thereafter bears to all a bright nativity." 

In that light of Christ, referred to as the "Holy One," the final poem in this highly recommended book asks that we might come to "the cup, before the coal/ is set upon our trembling tongues, before/ we blithely turn and walk again into our many other failures" and somehow "apprehend something of the fear/ with which we should attend this sacrifice,/ for which we shall not ever be found worthy,/ for which – I gather – we shall never be prepared."
The Poetry Editor and Poetry
February 2014
A Whiff of the Divine
The bulk of the collection is drenched with the so-called apophatic spirituality that is so central to Orthodox theology. That is, God is unknowable, and any language we use to describe God is centered more around what God is not than what God is. There are threads of this apophatic spirituality throughout. His poems will opten wind their way through a desire to know or see God, only to have God appear, but not as anything concrete or tangible. No solid rock or eagle's wings here; God is a shimmering fog, at most. 

"Hesychasterion" provides one example of this dynamic. The title refers to a tradition of prayer inspired by Jesus's injunction to "go into your room and shut the door and pray to your Father who is in secret." The idea is to divorce oneself from any outside stimuli or input from the five senses. After several lines of settling in to a time of prayer, Cairns finds what he's been seeking...sort of: 
Should I make my way at last to the hollow of my heart, 
I hope as well to apprehend a stilling of the crowd, 
within which stillness I might dare approach the cloud.

Cairns employs a number of descriptive names for God that are in turns incisive and winsome. Many of these names pepper his idiot psalms, which are spoken through the voice of a narrator, Isaak, and appear in every section of the book. Isaak alternately cajoles, yelps, and blurts out his petitions to God, whom he calls Subtle Tweaker, Lost Cause, or Great Zookeeper. In "Idiot Psalm 6, " which could be subtitled "A Lament of the 99%," Cairns invokes the names Great Enabler and Blithely Unapparent to indict a God who too often seems indifferent to the suffering of the poor and oppressed.

There is a bemusement to Cairns's invocations of this God of many names. He seems to waver between wanting an authentic, full-on encounter with his "Grea mad Architect" and holding back from it - or at least, knowing that such encounters are fleeting and provisional in this life. In "Idiot Psalm 10," Cairns closes a lovely and lush description of the created order with "O Most Secret Agent of our numberless/occasions, please also mitigate/the ache attending all of the above." The word "mitigate" lands like a thud, but with a wry twinkle. It's too much to hope that God might vanish the ache, but perhaps God can make it a little better. 

And "Slow Boat to Byzantium" suggests that the practice of prayer does not magically conjure up an experience of God; the discipline is an end in itself:
If any of this frank, confusing clatter
has distracted you from prayer, the odds are good the whole endeavor is already somewhat compromised.
Take heart. These ups and downs will not abate, 
so you will surely find in time
a practice less dependent on good fortune. 

Cairns's poetry is very sensual and surprisingly earthy. Though perhaps it should be no surprise. Cairns has shared in interviews that he is drawn to Orthodox worship because of its sensual, tactile elements. "...It's very bodily present - one brings himself or herself fully to the space. The air is filled with incense; the iconography is everywhere; our bodies kneel, prostrate. We kiss things. We kiss each other." Nowhere is this tactile element more in evidence than in the latter sections of the book. Section III, "My Byzantium," blends exquisite travel writing with spiritual pilgrimage as Cairns takes us into the chaos of a Thessalonian agora (marketplace) and up the holy mountain with the monks. I could smell the coffee brewing... and taste the seafood, served with beer and yogurt. 

Even with a spirit of slow reading and a dictionary nearby, some of Cairns's poems were simply beyond me. I was reminded of Billy Collins's warning about reading poetry, not to "tie the poem to a chair with rope/and torture a confession out of it." Cairns's poetry is smart and intriguing enough that I was tempted to do so - to parse each line, diagram each sentence. But ultimately it was more satisfying to pursue Cairns's words the way he pursues the Holy One, the Inexhaustible, the "Forever Forgiving Forgone (sans conclusion)" - with openness and curiosity, willing to receive whatever encounter with the Holy might result. 
MaryAnn McKibben Dana, Englewood Review of Books
Scott Cairns, professor at the University of Missouri in Columbia, is one of the leading American poets of faith. The title of his new book, "Idiot Psalms," shows his ability to combine biblical study with humility. Fourteen invented psalms, spread throughout the book, have a grieving narrator, the "Idiot," who regrets his imperfections.

He recognizes the "fraught obscuring fog / of my insufficiently capacious ken." The first of this sequence shows a "servant" who seeks spiritual connection with his God. After self-examination, he turns to faith.

Most of these invented psalms follow the same pattern. The 12th one ends with a prayerful petition, "grant in this obscurity a little light."

In this era of flash media frenzies, Cairns, like Stewart, takes readers back to a time of reflection. Little popular culture appears, but instead more sedate, thoughtful settings where the true action is interior struggles.

Cairns creates his own poetics to pursue the difficult goal of writing about the Bible without being preachy. He uses Greek, both modern and New Testament vernacular, phrases to amplify his religious motifs. Indeed, the poet sets some poems in Greece, which creates an immediacy for the entire collection.

The confessional writings of St. Augustine are a model for the poet, even if indirectly. Cairns renews Augustine's genre to present contemporary spiritual struggles.
Denise Low, The Kansas City Star
October 2014
Scott Cairns (b. 1954), the Catherine Paine Middlebush Chair in English at the University of Missouri, has won numerous awards for his dozen books of poetry, memoir, essays, and translations. This collection of 53 poems continues to explore Cairns's Eastern Orthodox faith, including his experiences at Orthodox monasteries like those on the "Holy Mountain" of Athos. Of special interest, the book gathers into one place 14 of his "Idiot Psalms" that have heretofore appeared in journals such as the Atlantic Monthly, The Paris Review, The New Republic and Poetry.
In theological parlance, Cairns's poems exemplify the Orthodox apophatic tradition that begins by confessing our unknowing. They are a marvelous correction to the many ways that we trivialize the divine. Our Father in heaven is intimate, and sometimes even too close for comfort, but he is also infinite, and so beyond the fallen and finite knowledge of mere mortals. To what might we compare "The Vast and Inexplicable" when "full none of [our words] quite seem to satisfy?"
So, our speech about the divine is never exact, always provisional, insufficient for its task. Our hearts are dull, our presumptions are many, our minds are cluttered, our spiritual "impediments" almost "countless." Thus our "fraught perplexities accrue." And yet sometimes we have inklings of awareness that are no less real. The good God has "condescended, acquiesced / to grant what little I might bear." Even though we ricochet between futility and audacity, it is good and right to pray: "Being both far distant and most near, / grant in this obscurity a little light." — Dan Clendenin

Scott Cairns (b. 1954), the Catherine Paine Middlebush Chair in English at the University of Missouri, has won numerous awards for his dozen of poetry, memoir, essays, and translations. This collection of 53 poems continues to explore Cairns's Eastern Orthodox faith, including his experiences at Orthodox monasteries like those on the on the "Holy Mountain" of Athos. Of special interest, the book gathers into one place 14 of his "Idiot Psalms" that have heretofore appeared in journals such as the Atlantic Monthly, The Paris Review, The New Republic, and Poetry.
In theological parlance, Cairns's poems exemplify the Orthodox apophatic tradition that begins by confessing our unknowing. They are a marvelous correction to the many ways that we trivialize the divine. Our Father in heaven is intimate, and sometimes even too close for comfort, but he is also infinite, and so beyond the fallen and finite knowledge of mere mortals. To what might we compare "The Vast and Inexplicable" when "full none of [our words] quite seem to satisfy?"
So, our speech about the divine is never exact, always provisional, insufficient for its task. Our hearts are dull, our presumptions are many, our minds are cluttered, our spiritual "impediments" almost "countless." Thus our "fraught perplexities accrue." And yet sometimes we have inklings of awareness that are no less real. Even though we ricochet between futility and audacity, it is good and right to pray: "Being both far distant and most near, / grant in this obscurity a little light." —Journey With Jesus