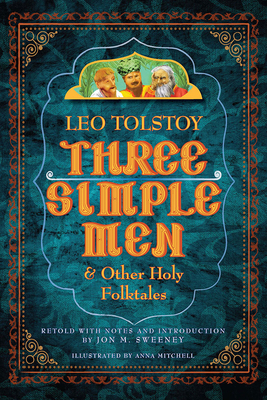 Three Simple Men (Paperback)
And Other Holy Folktales
Paraclete Press, 9781612615868, 80pp.
Publication Date: July 1, 2015
* Individual store prices may vary.
Description
You've met the characters in these stories before. We meet them in folktales from all around the world. There is the simple, wise old man who understands far more than he knows; the pompous religious expert who discovers his folly before it's too late; nosey neighbors and petty relatives; and a fight between good and evil in which, by story's end, good and evil almost seem to switch places. These classic folktales, made popular a century ago by Leo Tolstoy, are retold here for a new generation, beautifully illustrated in this gorgeous book designed for reading out loud, reading over and over again, and giving to friends.
About the Author
Jon M. Sweeney is the author of many books including The St. Francis Prayer Book and The St. Clare Prayer Book. He lives in Michigan. 



Praise For Three Simple Men: And Other Holy Folktales…
This month I came across a fascinating book: "Three simple men and other holy folktales" by Leo Tolstoy, retold with notes and an introduction by Jon M. Sweeney. This small but ornate book — it even smells ornate — explores three of Tolstoy's preserved Russian folktales: "Three simple men," "A godson learns to fight evil" and "One neglected spark may burn down a house," each one packed with the treasure of truth uniquely delivered through literature. We all know of Leo Tolstoy and his "War and Peace," "Anna Karenina" and "The Brothers Karamazov."
Sweeney's small book gives us a chance to sample Tolstoy at his finest without investing the better part of a year to do it. Sweeney is quick to point out that while storytelling is not, in and of itself, sacramental, it most often acts as the vessel by which faith is transmitted. The Bible is a whole library of literary works inspired by God.
Each of these stories is packed with Christian teaching in a way only great writers can do, a way we rarely read about in today's culture where almost all values are denigrated.
This is one of those books that you should buy repeatedly, for Christmas, for birthdays, for Easter, and for the heck of it. An immensely great read.—Mr. Robert Curtis, The Catholic Sun
or
Not Currently Available for Direct Purchase