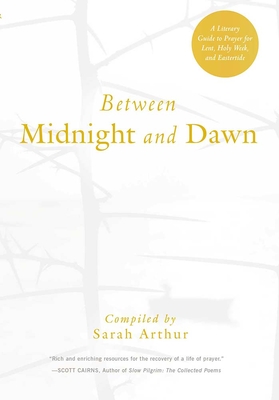 Between Midnight and Dawn
A Literary Guide to Prayer for Lent, Holy Week, and Eastertide
Paperback

* Individual store prices may vary.
Description
Join poets and novelists from across the centuries as you travel through the liturgical seasons of Lent, Holy Week, and Eastertide. With the popular collections At the Still Point: A Literary Guide to Prayer in Ordinary Time and Light Upon Light: A Literary Guide to Prayer for Advent, Christmas, and Epiphany, this third collection of daily and weekly readings from classic and contemporary literature completes the church calendar. New voices such as Chimamanda Ngozi Adichie and Benjamín Alire Sáenz join well-loved classics by Dostoevsky, Rossetti, and Eliot. Light in the darkness, illuminating the soul. Between Midnight and Dawn: A Literary Guide to Prayer for Lent, Holy Week, and Eastertide will use imagination to draw you deeper into God's presence. Read it through, then use it as a resource for years to come.
 
Praise For Between Midnight and Dawn: A Literary Guide to Prayer for Lent, Holy Week, and Eastertide…
"Rich and enriching resources for the recovery of a life of prayer. More difficult, perhaps, than any other truth we may glimpse in the midst of what we know as 'the time being,' is the efficacy of penitential prayer; most elusive is the 'bright sorrow' that couples our repentance with joy. With this book, many will find their way to this inestimable blessing." —Scott Cairns, author of Slow Pilgrim: The Collected Poems

"A rich feast." —Lauren F. Winner, author of Still: Notes on a Mid-Faith Crisis

"Between Midnight and Dawn is an imaginative collection of poetry and prose that reveals what great literature is at its core: a psalm, a cry against the darkness, a prayer." —Ashlee Cowles

"I may just be a bit smitten with this book." —Ann Voskamp, author of One Thousand Gifts

"Like a scribe trained for the kingdom of heaven, she brings out treasures new and old to illuminate the mysteries of God's saving ways." —Michael S. Poteet,The Sci-Fi Christian

"What a delight, to find so extraordinary a collection." —Kathleen Norris, author of Dakota and Cloister Walk

"'It is nearly impossible to read a poem both quickly and well,' Arthur warns, and so she advises the reader to go slow, savoring the psalm and scripture passages she offers for each section, extending the readings over several days. Perhaps Arthur knows that we often have to be seduced into seeing the depths of the darkness, and thus she eases the way with a framework that looks like a traditional devotional book—opening prayer, scriptures, readings, personal prayer and reflection, closing prayer.  But in those readings are the weight and wonder of the ages.  This is explosive stuff Arthur has brought together—again, too much to be absorbed in the sittings of a single Lent and Easter. But for those who see God's hand in the devastating beauty of art and human word, this guide is a balm and a window to a deeper experience of the season." —Alex Joyner, The Englewood Review of Books

"A thing of beauty!"—the late Phyllis Tickle, author of The Divine Hours

"What a gem of a book, a great resource for preachers, pray-ers, or anyone who likes such intelligent devotional material." —Byron Borger, Hearts and Minds Books
Paraclete Press, 9781612616636, 272pp.
Publication Date: January 1, 2016
About the Author
Sarah Arthur is a fun-loving speaker and the author of ten books ranging from popular devotionals to serious engagement with theology and literature. A graduate of Wheaton College and Duke Divinity School, she speaks around the country on the role of imagination and narrative in spiritual formation. She is the editor-curator of Paraclete Press's At the Still Point: A Literary Guide to Prayer in Ordinary Time (2011) and Light Upon Light: A Literary Guide to Prayer for Advent, Christmas, and Epiphany (2014). When she isn't chasing two small boys around the house, Sarah can be found gardening, writing young adult novels, and volunteering in youth ministry at Sycamore Creek United Methodist Church in Lansing, MI, where her husband, Tom, is pastor. www.saraharthur.info