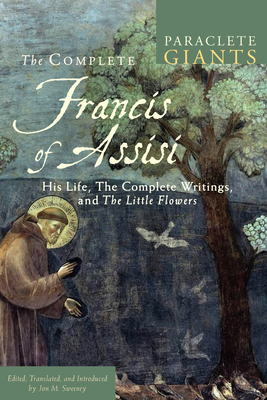 The Complete Francis of Assisi (Paperback)
His Life, The Complete Writings, and The Little Flowers (Paraclete Giants)
Paraclete Press, 9781612616889, 416pp.
Publication Date: August 1, 2015
* Individual store prices may vary.
Description
There are many editions of the writings of St. Francis, and biographies about him, but here in one volume are both, plus the complete text of the late medieval work, The Little Flowers, which did more to establish the legend of the man than any other work. This "Paraclete Giants" edition includes the complete Road to Assisi, Paul Sabatier's ground-breaking and foundational biography of the saint, first published in French in 1894 and re-issued and expanded in 2002; the complete Francis in His Own Words: The Essential Writings; and The Little Flowers, thus offering the best introduction to St. Francis yet available between two covers. Other Paraclete Giants include The Complete Julian of Norwich and The Complete Introduction to the Devout Life, both translated and introduced by Fr. John-Julian, OJN.
Praise For The Complete Francis of Assisi: His Life, The Complete Writings, and The Little Flowers (Paraclete Giants)…
[
Stared Review
] It's difficult to think of a saint more widely recognized and beloved than Francis of Assisi (1181–1226 CE). Sweeney (When Saint Francis Saved the Church) has brought together Paul Sabatier's important 1894 biography of the saint and almost all of Francis's own writings and prayers including the classic The Little Flowers, an early anthology of anecdotes, teaching tales, and legends about Francis and the first generation of his followers. The author has annotated Sabatier's work, and the translations and arrangement of the material are also his. VERDICT It is immensely valuable to have in one volume the key writings by and about Francis and his first disciples; essential for libraries and individuals looking to expand their knowledge of this influential saint.
—Library Journal
Paraclete Press has a number of books on Christian Spirituality. Their Paraclete Giants series presents the complete works of various saints. I have several of these. They are affordable editions of Christian classics. The Complete Francis of Assisi is an exceptional volume and a great edition to the series. 
Francis's Essential Writings is of the most historical interest to me. Here is Francis in his own words–letters, prayers and monastic rules. These are important documents of the early Franciscan movement. Sweeney's introductions and comments provide context for each piece of writing. The Little Flowers is well known and well loved. What sets this edition apart from others (other than Sweeney's translation) is their arrangement. Sweeney places these stories in what he thinks is their most straightforward chronological rendering (rather than the traditional order. Anyone interested in Francis and the movement he founded will love this volume. If you do not have any Francis on your shelf, this is a good deal. I give it five stars.—James Matichuk, thoughts, prayers & songs
Saint Francis of Assisi is easily one of the most recognized saints, right up there in popularity and appealing warmth with Santa Claus. The Complete Francis of Assisi seeks to create a loving, inspiring portrait of the man who abandoned his father's riches to wander the Italian countryside, ministering to lepers and preaching to birds. The book is actually three books in one: a gentle biography, a selection of writings by the saint himself, and a collection of medieval tales meant to popularize his legacy. Readers won't find anything that drastically changes their perceptions of the lover of Lady Poverty, who nicknamed his own body Brother Ass, and the inclusion of three separate books means that some anecdotes are repeated. But the editor-translator's clear love for his subject shines through, and the readers are left feeling they have spent some quality time with the man who continues to inspire us to contemplate abandoning our worldly possessions. In the company of a man like Francis, it seems like a good idea.—Christine Engel, Booklist


Paraclete Press now has published this comprehensive collection of materials on Francis of Assisi as another volume in a very useful series, "Paraclete Giants," with others on Julian of Norwich, Thérèse of Lisieux, the Imitation of Christ, among other classics in the spiritual life.  Jon Sweeny is known for his work on Francis with numerous other publications, most recently When St. Francis Saved the Church, reviewed here by me.
Once more, I can recommend a book by him with enthusiasm and gratitude. Sweeney brings together several important resources in one volume. There is first, the classic biography of Francis by Paul Sabatier, but with a great deal of editing and added material. Additional resources include a glossary of terms, a very helpful listing of major figures as well as sources for further reading. The second component is the essential writings of Francis. Here Sweeny provides fluid, accessible translation and notes as well as ample bibliography. Lastly, there is a well edited, revised translation of the important early narrative on Francis and his life , the fioretti or "little flowers," a collection of accounts by different authors done and collected a century or so after Francis' death. 
This, like other volumes in the series such as the one on Julian, will be a welcome resource for lectio divina, for what is contained is the substance of Francis' words and actions. Having all these sources together and in such a clear, accessible version will make this a valuable book for retreats, for courses on the spiritual life as well as on major figures in that life.


Today, the bishop of Rome, the pope's taking on not just the name of Francis—the first time ever for the head of the Catholic church—but also this same Pope Francis' daring to speak out against world economic systems, against the abuse of the natural environment, on behalf of the marginalized—all this has created yet another anti-Franciscan backlash, a sign of the way in which the "little poor man" of Assisi remains a sign of contradiction and challenge in the church. This fine volume is perhaps the most complete encounter in print one could have with him. The detail from Giotto's beautiful fresco in the upper basilica in Assisi on the cover, of Francis preaching to the birds, is another wonderful vision.— Michael Plekon, Baruch College of the City University of New York
Saint Francis of Assisi was born October 3, 1226 as Giovanni di Pietro di Bernardone, but nicknamed Francesco and became an Italian Catholic friar and preacher. He founded the men's Order of Friars Minor, the women's Order of St. Clare, and the Third Order of Saint Francis for men and women not able to live the lives of itinerant preachers. Francis is one of the most venerated religious figures in Roman Catholic history. "The Complete Francis of Assisi: His Life, The Complete Writings, and The Little Flowers" is a 416 page compendium comprised of an annotated account of his life and all of his surviving writings ably edited and translated into English for an American readership by independent scholar, author, and culture critic Jon M. Sweeney (who was the editor-in-chief of the Massachusetts-based Paraclete Press from 2004-2015). Deftly organized and presented with insightful commentaries, "The Complete Francis of Assisi" is enhanced with the inclusion of a five page listing of succinctly presented biographical sketches of the Franciscan Friars; a two page listing of suggestions for further reading. A truly impressive work and 'reader friendly' work, "The Complete Francis of Assisi" is very highly recommended for community, church, and academic library Christian Studies and Christian Biography collections in general, and Franciscan History supplemental studies lists in particular. For personal reading lists it should be noted that "The Complete Francis of Assisi" is also available in a Kindle edition ($18.95).—The Midwest Book Review

The Complete Francis of Assisi: His Life, The Complete Writings, and The Little Flowers Ed., translated and introduced by Jon M. Sweeney, Paraclete Press, 2015, 399 pp., ISBN 978-1-61261-688-9. $24.99 (paper).

The Complete Francis of Assisi is actually a collection of three books between two covers. Sweeney edited the material of three classic Francis texts and brought them together in one convenient location. The individual titles that constitute this single work on Francis are Road to Assisi, Francis of Assisi in His Own Words: The Essential Writings, and The Little Flowers. This four hundred-page book may seem daunting considering it seeks to introduce a simple and unassuming man of God, but the reader will soon be captivated by the message and transformed in heart. The reader will discover the man Francis, his writings, and his living legacy. Sweeney does an admirable job introducing, annotating, and contemporizing each of the three classic French texts. It should also be noted that this title is part of a new series created by Paraclete Press called Paraclete Giants which specifically gathers the materials that profile the life, deeds, and words of Catholic luminaries in one place.
The Complete Francis of Assisi is recommended for all libraries seeking to update some classic texts.
—John Leonard Berg, Catholic Library World