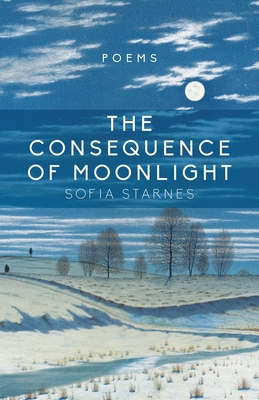 The Consequence of Moonlight
Poems
Paperback

* Individual store prices may vary.
Description
The act of writing poetry, for Sofia Starnes, is a "getting out of the way" so that a poem might occur, a poem that must itself become a place of resonance, where the reader might recognize a voice otherwise unheard. The Consequence of Moonlight is a poetic invitation to an awareness of an underlying Presence; it is also a call to be present as a loving witness of valuable—and vulnerable—things.
These poems are written to be depositories for the reader's experiences. The poem's truth is its emotion, nothing else. Why moonlight? Because the moon has no light of its own; it lives on borrowed light, as we do. The moon is best perceived and most needed in the dark, fulfilling itself in absence. It is both here and there, as is often true for saints, whose luminosity is seen as lunacy in the world.
Praise For The Consequence of Moonlight: Poems…
"With uncommon prosodic and linguistic elegance, Sofia Starnes brings to the onetime familiar an exhilarating vividness, a [re]vision that avails the story's ongoing opening, continuing agency." —Scott Cairns, author of Slow Pilgrim: The Collected Poems and other works
 
"Complexly ordered and layered, musically delivered, frequently profound, and brilliantly sensuous, Starnes' newest collection carries us through the life of humans and the life of Christ. Her deeply intelligent poems demand our attention and reward it with the wizardry with which she builds and shapes her lines. There is wit, too, and poems that respond to biblical and exegetical quotations. This is not an easy book, yet '[h]ow bruising-brave the larkspur's blue / becomes, how lover-heart / the roses—' Resurrection is here remade fresh, new, vital, and within grasp." —Kelly Cherry, author of The Life and Death of Poetry: Poems and other works
 
"How aptly titled The Consequence of Moonlight is. Here you will find a treasury of poems filled with an exquisite beauty and a kind of celestial music one rarely hears in contemporary poetry. But these lyrics, these songs, come with a warning with its invitation. Reader, you will have to slow down and allow the transforming moonlight of these lines to enter into your own sacred space. Starnes is at pains to erase herself as much as she can to allow the reader to discover something deep and profound within oneself. Welcome to a charged and grace-lit inner world, where you are not to put a name on everything you think you find here, but by warming yourself in this garden of delights might return a changed person, and the better for it." —Paul Mariani, author of Deaths & Transfigurations and other works
 
"Although the answers to the big questions may be different for each of us, the questions remain the same, and Sofia Starnes is a poet who asks all the right questions.  In the fine poems collected in The Consequence of Moonlight, we get a rare reward, the observations and insights of a talented and thoughtful poet attempting to examine the world through a spiritual lens." —David Bottoms, author of We Almost Disappear and other works
 
"In her new collection, The Consequence of Moonlight, Sofia Starnes considers the nature of home, of children, of the creation where we live as creatures of God.  In one striking line she writes, 'God digs into his resurrection.'  And in these poems Starnes digs into the incarnation.  Though the poems often seem ethereal and even otherworldly, basking in the reflected light of the moon, they have an edge.  They mark that membrane shared by body and soul.  I have written elsewhere that Starnes is part of the great tradition of poets, from Solomon to John Donne, who marry sensuality to religious belief.  Her new poems remain part of that tradition.  We are lucky to have them." —Mark Jarman, author of The Heronry
 
Paraclete Press, 9781612618609, 96pp.
Publication Date: April 3, 2018
About the Author
Sofia Starnes
, the recent Poet Laureate of the Commonwealth of Virginia (2012-2014), is the poetry editor of the 
Anglican Theological Review
and author of five poetry collections, including
The Soul's Landscape
, co-winner of the Aldrich Poetry Prize, judged by Billy Collins. She lives in Williamsburg, Virginia, where she serves as Eucharistic Minister at St. Bede Catholic Church. Learn more at
www.sofiamstarnes.com
.