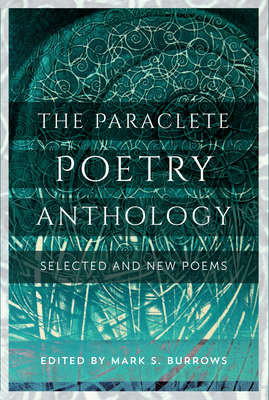 The Paraclete Poetry Anthology (Paperback)
Selected and New Poems
Paraclete Press, 9781612619064, 224pp.
Publication Date: December 1, 2016
* Individual store prices may vary.
Description
With poems by Phyllis Tickle, Scott Cairns, Paul Mariani, Anna Kamienska, Fr. John-Julian, SAID, Bonnie Thurston, Greg Miller, William Woolfitt, Rami Shapiro, Thomas Lynch, Paul Quenon, and Rainer Maria Rilke, this anthology spans the first ten years of the poetry series at Paraclete Press.

"Paraclete is a house firmly rooted in presending and curating religious poetry as part of the verbal experience that, being couched more deeply in the aesthetic than the didactic, has deep resonance and potent significance for the shaping of the surrounding culture itself. It means the on-going giving away and sharing of God with humility through mystery." —Phyllis Tickle (1934-2015)
About the Author
Mark S. Burrows, editor of The Paraclete Poetry Anthology, is a poet, professor and a historian of medieval Christianity. Currently he is on the faculty of the University of Applied Sciences in Bochum, Germany. He is Poetry Editor for Spritus: A Journal of Christian Spirituality and is Series Editor for the poetry and Mount Tabor line of books on arts and aesthetics at Paraclete Press.
 
Praise For The Paraclete Poetry Anthology: Selected and New Poems…
"Altogether, the range of poetic expression here encompasses spiritual journaling, prayer, legends and biography, visionary and ordinary mysticism, nature-contemplation, and, of course, prayer, as well as formally relaxed and precise individual poems. A worthy showcase." —Ray Olson, Booklist

"You'll wear out the pages and the binding before you're ever ready to put down this book. Consider this a short course for the soul. Or, perhaps, the syllabus to last a lifetime. Herein, Mark S. Burrows, a poet, translator and professor of historical theology and literature becomes one of those once-in-a-lifetime teachers who illuminates the way into the depths of a subject we've never before seen so clearly. In his introduction...Burrows makes the case for why poetry is a sure road into the uncharted landscape of the divine. It is through 'the startlements of language' that a poem begins its work, in its capacity to awaken 'the sense of wonder by which we discover again and again traces of the beauty that saturates our world,' Burrows writes, drawing fluently from a pantheon of poets. 'In moments of surprise, we sense light breaking forth from the dark we carry within us,' the professor writes. Poems attune our minds 'through the practice of attention'. And they invite us 'to wander into truths often hiding in plain view'. And then, as if we've been invited into a book-lined library, one curated across a lifetime, Burrows lines up a litany of poets and poems illustrating that very thesis." —Barbara Mahany, Chicago Tribune