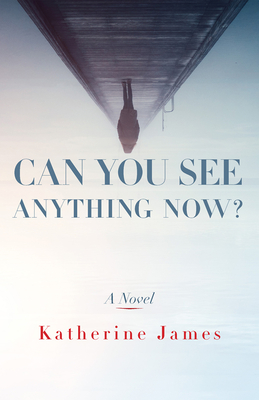 Can You See Anything Now? (Paperback)
A Novel (Paraclete Fiction)
Paraclete Press, 9781612619316, 256pp.
Publication Date: October 10, 2017
* Individual store prices may vary.
Description
Winner of the Christianity Today 2018 Fiction Book Award

Can You See Anything Now?, a debut novel, follows a year in the small town of Trinity where the tragedy and humility of a few reveal the reality of people's motivations and desires.
 
This is a story without veneer, and for readers who prefer reality to sanitized fiction—this book is unsentimental, and yet grace-filled.
 
The characters here are complex and intriguing—the suicidal painter, Margie, who has been teaching her evangelical neighbor, Etta, how to paint nudes; her husband, the town therapist, who suspects his work helps no one; and their college-aged daughter Noel—whose roommate, Pixie, joins them at home for a winter holiday.

Author Katherine James' memoir, Notes On Orion, will also be published in 2018.  
About the Author
Katherine James has an MFA from Columbia University where she received the Felipe P. De Alba merit fellowship and taught undergraduate fiction.
Praise For Can You See Anything Now?: A Novel (Paraclete Fiction)…
"....The novel is brutally honest in its relation of the characters' struggles. This willingness to stare into the darker depths of the human experience is refreshing in a novel that also claims Christian trappings. Rather than pretend certain words, actions, and people don't exist, James does not shy away from peppering her novel with a diverse cast and their diverse opinions and vocabularies. There is enough light that peeks through to provide some breathing space. Etta is the primary provider of this relief, as she is portrayed as kindly innocent rather than judgmentally naive. Her interactions both with Margie and with the more gossipy members of the Trinity community provide a portrait of open-minded inclusion that should be characteristic of more Christian literature. Despite its unvarnished subject matter, the prose possesses moments of lovely lyricism. Carefully chosen details create scenes that are tangible in their realism. Literary and pop-culture references alike stimulate and potentially broaden the intellect. Brimming with both acuity and grace, Can You See Anything Now? is a welcome challenge to the dogmatic conventions of modern Christian fiction." —Foreword Reviews
"Can You See Anything Now? marks the debut of an exciting literary talent. I hear echoes of Elizabeth Strout and Richard Russo in Katherine James's richly detailed world, in her empathy, quiet humor, and hope. Richard Foster has said that writing is spiritual if it 'drill[s] down into the subterranean chambers of the human soul.' James manages this improbable task as she explores the lives of an intergenerational cast—including the irresistible Margie—drifting between the small-town foibles of Trinity and urban particularities of Manhattan. May her characters, insights, and often-striking prose find the wide audience they deserve." —Daniel Bowman, associate professor of English, Taylor University
If I were to sit on the judgment panel for the National Book Awards in fiction, I would insist that Katherine James's first novel—Can You See Anything Now? (Paraclete; 2017)—be placed in consideration. I would promote it because I think it is simply amazing and that it demonstrates a literary proficiency rarely if ever found in a debut novel. In terms of literary skill there is a kind of bell curve here: for the first third of the book, the author seems to be in love with language. The text is elegant and rich, with literary chances taken in almost every sentence: "melt of heat," "a shock of sun," "the day folded itself like a fan," and "the terrible, terrible blue sky"—rich fare! And then, as the bell curve rises, the elegance begins to move aside and gives place to the straight-forward launch of sheer story-telling where the plot evens out the language to its usefulness and the story is all. And then in the last third of the book, we hear again the voice of that first author, that poet, that beauty-dreamer. The author is there for the moment and for what the moment needs—be it language or story—sometimes almost exhausting the reader with the visual refined stretch of the language. Margie the painter-in-the-attic, wrestling with her MS; her psychologist husband Nick's invention of "vascular resting therapy;" Mary of the spaghetti casserole; Etta of the painted tomatoes; together they create the world in which they live—and it is a world of fascination. —John-Julian, OJN