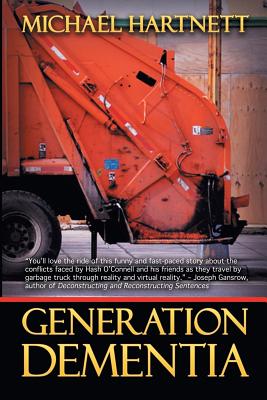 Generation Dementia
Paperback

* Individual store prices may vary.
Description
"You'll love the ride of this funny and fast-paced story about the conflicts faced by Hash O'Connell and his friends as they travel by garbage truck through reality and virtual reality." -Joseph Gansrow, author of Deconstructing and Reconstructing Sentences
They line up in Frick Village to get on the garbage truck: the disoriented, the suicidal, the desperate, even the kid who won't look up from her cell phone.
They are Generation Dementia, high school seniors who have lost their bearings. When a video made about the troubled teens on the garbage truck goes viral, the reality TV crews come around to repackage Generation Dementia and the trash they haul.
Narrator Hash O'Connell rebels against this makeover and soon finds he and his friends are confronted with a darker underside of both his community and the cameras now framing it. Hash unearths disturbing secrets about twenty years of lost trash and the lurid tales buried with that refuse. Ultimately, Hash encounters the corruptions of Frick's past, revelations that will transform his understanding of his family's legacy and allow him to emerge from the rubble he has inherited.
Black Rose Writing, 9781612965925, 342pp.
Publication Date: October 1, 2015