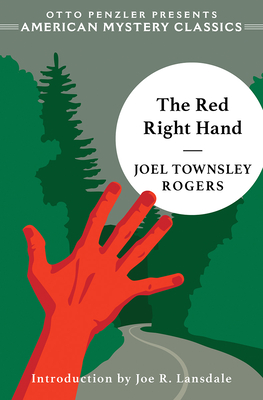 The Red Right Hand
Hardcover

* Individual store prices may vary.
Other Editions of This Title:
Paperback (7/7/2020)
Paperback (4/1/1997)
Description
"Deserves its reputation as one of the greatest mysteries of all time."—Publishers Weekly (Starred Review)
A deranged killer sends a doctor on a quest for the truth—deep into the recesses of his own mind.
After the death of Inis St. Erme, Dr. Henry Riddle retraces the man's final moments, searching for the moment of his fatal mis-step. Was it when he and his bride-to-be first set out to elope in Vermont? Or did his deadly error occur later—perhaps when they picked up the terrifying sharp-toothed hitch-hiker, or when the three stopped at "Dead Bridegroom's Pond" for a picnic? 
As he searches for answers, Riddle discovers a series of bizarre coincidences that leave him questioning his sanity and his innocence. After all, he too walked those wild, deserted roads the night of the murder, stranded and struggling to get home to New York City. The more he reflects, his own memories become increasingly uncertain, arresting him with nightmarish intensity and veering into the irrational territory of pure terror—that is until an utterly satisfying solution emerges from the depths, logical enough to send the reader back through the narrative to see the clues they missed.
An extraordinary whodunnit that is as puzzling as it is terrifying, Joel Townsley Rogers's The Red Right Hand is a surreal masterpiece that defies classification. It was identified by crime fiction scholar Jack Adrian as "one of the dozen or so finest mystery novels of the 20th century."
Praise For The Red Right Hand…
It is a strange and terrifying story, and the solution of the mystery, while perfectly logical, is not at all what one is led to suspect.
— New York Times

This is the kind of book that, though brief, stretches its limbs like a cat in the August sun, padding slowly around the action, allowing only glimpses of the truth, all the while setting the reader's crackpot theories to boiling [...] the desperate calculations and dogged attention I paid The Red Right Hand culminated in the most enjoyable reading experience of my year.

— The Paris Review

This logical nightmare is completely undefinable and incapable of synopsis . . . Unique and exciting.
— Anthony Boucher

Deserves its reputation as one of the best mysteries of all time.
— Publishers Weekly (Starred Review)

Thoroughly gripping from first page to last . . . When the full
story is finally revealed in this disturbing nightmare of a whodunnit, it will well leave readers
reeling. A must-read masterpiece, thankfully resurrected.
— Booklist (Starred Review)
American Mystery Classics, 9781613161647
Publication Date: July 7, 2020
About the Author
Joel Townsley Rogers (1896-1984) was a hugely prolific writer of short stories and novellas across several genres, including mystery, adventure, and science fiction, most of which were published in pulp magazines. He also wrote several novels, of which The Red Right Hand is by far his most well-known; it was adapted from a story published in New Detective.

Joe R. Lansdale is the author of over thirty novels and numerous short stories, perhaps best known today for his Hap & Leonard series. His work, which includes writing for comics, television, film, newspapers, and Internet sites has received the Edgar Award, eight Bram Stoker Awards, the Horror Writers Association Lifetime Achievement Award, and many, many other accolades. He lives in Nacogdoches, Texas with his wife, dog, and two cats.