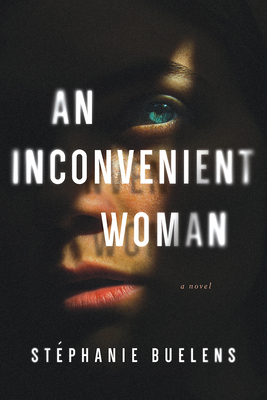 An Inconvenient Woman
A Novel
Hardcover

* Individual store prices may vary.
Other Editions of This Title:
Paperback (9/7/2021)
Compact Disc (12/8/2020)
MP3 CD (12/8/2020)
Description
"A piercing, high-speed nightmare best consumed in a single breathless sitting."—Kirkus (Starred Review)
In this debut psychological thriller, two women on opposite sides of the law delve into the heart of a years-old crime in order to stop a future one.
Claire Fontaine is convinced that her ex-husband killed their teenage daughter all those years back and believes he's capable of killing again. When she sees him move in with another woman, to play step-father for a girl the same age as the one she lost, Claire tries desperately to warn the new bride of the danger her family is in. But when the woman dismisses her admonishments, she feels she must take matters into her own hands and stop the crime she failed to stop before.
Sloane Wilson left the LAPD to work as a "sin eater," a contractor for hire who specializes in cleaning up inconvenient situations—situations which, for whatever reason, are better handled outside the law. Like, for example, an ex-wife who stalks her former husband, throws paint on his door, and makes vague, violent threats to his new wife. A domestic dispute like that can get messy when the cops are called; plus, there is a risk that their presence will aggravate the woman in question.
As Sloane investigates her newest mission, however, she finds that there is more to it than meets the eye, uncovering a history of trauma that casts aspersions on the stories of both Claire and Sloane's client. In a case where objective truth is increasingly muddled by passions, suspicions, and fears, she soon loses the ability to distinguish fact from fiction. But Sloane knows one thing for certain: sometimes the only way to prevent a crime is by committing one.
Praise For An Inconvenient Woman: A Novel…
"Buelens' story is riveting, with the tension ratcheting up until the end. With twists aplenty, vivid characters, and a palpable sense of looming disaster, readers will find themselves wondering whose story to believe."
— Emily Melton - Booklist

"My idea of a good psychological suspense story is one that messes with your head. No cheap thrills, just lots of disorienting plot twists that have you doubting your own mental faculties. AN INCONVENIENT WOMAN, a remarkably polished first mystery by Stéphanie Buelens, succeeds at these mind games with a taut plot."
— Marilyn Stasio - The New York Times

One of the thrillers of the year [...] never loses its grip.

A hangman's noose of a thriller, airtight and inescapable, each strand
expertly braided, each loop perfectly knotted. Harrowing yet humane — a novel
as provocative as it is suspenseful.
— A. J. Finn, #1 New York Times bestselling author of The Woman in the Window

A dark and riveting
thriller with unexpected twists at every turn. I
loved the two women at the heart of the story.
— Camilla Lackberg, internationally bestselling author of The Golden Cage

An Inconvenient Woman is beautifully, beautifully written and suspenseful from the chilling opening until the end.

— James Patterson, #1 New York Times bestselling author

Absolutely stunning! A brilliant concept meets perfect execution in An Inconvenient Woman, a twisting thriller in which a looming tragedy and a horrific crime from the past are masterfully woven together.  It's hard to believe that this is Buelens's first novel; I truly hope more are in the future—preferably the near future.

— Jeffery Deaver, New York Times bestselling author of The Never Game and The Bone Collector.

Old problems told by conflicting voices. A new, sharp view of psychological reality. Sin Eater! What a fascinating concept. I could not put it down!
— Anne Perry, New York Times bestselling author of 'Death in Focus'

Addictive, immersive, unputdownable. The powerful women at the beating heart of this beautifully-wrought thriller—women with grudges and looking for a certain brand of justice—give the old school noir vibe a thoroughly modern energy. As deep and human as it is rocket-paced, An Inconvenient Woman is a slick, accomplished debut.

— Lisa Unger, New York Times bestselling author of The Stranger Inside

By turns lyrical and enraged, but always poignant, An Inconvenient Woman provides relentless thrills. Buelens will inevitably invite comparisons to Liane Moriarty and Gillian Flynn—a taut, gripping noir mystery that is as timely as it is ferocious.

— Lyndsay Faye, award-winning author of The Paragon Hotel
Scarlet, 9781613161906, 312pp.
Publication Date: September 1, 2020
About the Author
Stéphanie Buelens was born in Belgium and educated in France. She has traveled to more than thirty countries. For the last twenty years, she has lived between Paris and Los Angeles. She has worked as an actress, interpreter, translator, business consultant, French media coach, and language instructor. She currently lives in Belgium.
or
Not Currently Available for Direct Purchase