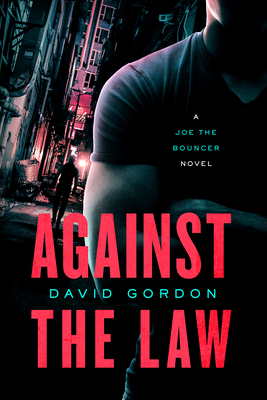 Against the Law
A Joe the Bouncer Novel
Hardcover

* Individual store prices may vary.
Other Editions of This Title:
Digital Audiobook (5/24/2021)
Paperback (3/29/2022)
Description
A Special Forces agent turned strip club bouncer with a side hustle as a fixer for the New York mob seeks the source of a new brand of heroin flooding the city streets
Joe is an ex-Special Forces operative with a bad case of PTSD and some substance abuse issues, trying to rebuild a simple life as a strip club bouncer living with his grandmother in Queens. But this simple life is constantly complicated by the fact that, at the invitation of a childhood friend, now a Mafia boss, Joe also moonlights as a fixer for the most powerful crime families in town.
In his newest assignment, Joe is sent to take out a shadowy figure named Zahir, the faceless name behind White Angel, a powerful new brand of heroin invading the mob's territories and threatening their sales. Then Joe discovers a link between Zahir and a shady group of private military contractors, and the stakes of his mission become increasingly deadly.
Soon the Five Boroughs are on the verge of an all-out drug war, pitting Joe and the crime world's most infamous talents against a ruthless clan of professional killers. Joe's only chance to calm the violence is to intercept the newest shipment of Zahir's product—if his skills as a master thief prove up to the task.
A comic caper with heists, car chases, and shoot-outs aplenty, Against the Law is Joe the Bouncer's most exciting outing to date, as humorous as it is thrilling. Gordon's memorable characters, tight plotting, and breathless action sequences make this a standout in the pantheon of the New York crime novel, certain to appeal to fans of authors such as Donald E. Westlake and Elmore Leonard.
Praise For Against the Law: A Joe the Bouncer Novel…
This one has everything, from a car chase that makes what Steve McQueen does with that Mustang in Bullitt seem like a Sunday drive, to a showdown in a Russian bathhouse that is part Marx Brothers and part Kill Bill. For anyone with a taste for blood-spattered comic capers featuring characters who vault off the page, Against the Law is an exquisite fever dream in Technicolor.

— Booklist STARRED REVIEW

Gordon is fashioning himself an impressive crime world niche somewhere between Donald Westlake and Elmore Leonard, with his raucous, rollicking stories of New York City crime . . . Come for the intricate, surprising crime scenarios; stay for the banter.
— CrimeReads

Everyone involved is heavily armed, ruthless, and possessed of an irresistibly off-kilter sense of humor.
— Kirkus Reviews

Gordon's sentences are crisp and often jarring. His plots unspool in strange, sometimes disturbing ways . . . enjoy the disorientation and to trust that you're in the hands of an earnest storyteller.
— Paris Review, on White Tiger on Snow Mountain

Gordon has a knack for twisty story lines, nonstop action, and over-the-top sequences.
— Publishers Weekly

David Gordon brings an outstanding new voice to the contemporary crime novel.
— Robert Crais

Audacious
— Publishers Weekly

A brilliantly goofy caper novel in the grand tradition of Donald E. Westlake.
— The New York Times Book Review on The Bouncer

If you like a liberal dose of humor in your suspense fiction, then look no further than David Gordon's clever new caper...The Bouncer has 'film adaptation' written all over it.
— Bookpage on The Bouncer

The Bouncer feels like the introduction to a series...loaded with interesting, quirky characters who are just different enough from those one usually encounters in a crime novel to shoulder its way to the top of your reading list...Gordon has garnered critical acclaim for his previously published fiction but deserves more notice in the public eye. This may be the book that provides that impetus. And somebody in the video industry needs to read it as well.
— Bookreporter, on The Bouncer

Fast, funny and tough, David Gordon's The Bouncer will toss you over his shoulder like King Kong and carry you away.
— Max Allan Collins, author of Road to Perdition

David Gordon's The Bouncer is a treat?a hard-edged thriller that makes you feel good while you're reading it. Give it to someone. They'll thank you.
— Thomas Perry, New York Times bestselling author of The Bomb Maker

Funny, with a satirical edge, and unlike some literary authors who play with genre, Gordon knows how to write a potboiler . . . An impressive debut.
— Los Angeles Times, on The Serialist

An irreverent and funny twist on the classic whodunit?the kind of pulp-fiction mystery that made the careers of such writers as Jim Thompson, Raymond Chandler, and Dashiell Hammett.
— GQ.com, on The Serialist

I have rarely come across a writer in such command of the English language. His sentences, characterizations and set pieces are things of beauty.
— Washington Independent Review of Books, on Mystery Girl

David Gordon has gathered up our cultural trash and made of it something magnificent. In the tradition of Bolano, Chandler, and lots of dime novels that most of us pretend to know nothing about, The Serialist makes high art out of serial murders, pornography, soup dumplings and pulp fiction. I adore this book!
— Rivka Galchen, on The Serialist

David Gordon has written a passionate love story disguised as a mystery, a brainy tragicomedy, a bildungsroman wherein 'the gumshoe learns the shocking secret of himself.' His prose is by turns salacious, uproarious, and happily unhinged. A total delight.
— Karen Russell, on Mystery Girl

Part mystery, part love story, wholly delightful.
— Bustle, on Mystery Girl

Feels like a return to some of the best American crime fiction of the 60s, 70s and 80s. The emphasis is on entertainment in a way that I think the likes of Donald Westlake would approve of.
— Crime Fiction Lover
Mysterious Press, 9781613162262, 336pp.
Publication Date: May 25, 2021
About the Author
David Gordon was born in New York City. His first novel, "The Serialist," won the VCU/Cabell First Novel Award and was a finalist for an Edgar Award. It was also made into a major motion picture in Japan. His work has also appeared in The Paris Review, The New York Times, Purple, and Fence, among other publications.