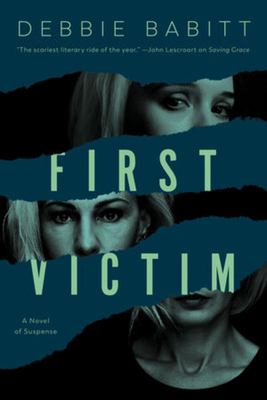 First Victim
Hardcover

* Individual store prices may vary.
Description
The line between justice and revenge blurs when a judge takes the law into her own hands.
The Honorable Alice D. McKerrity is no stranger to violence. From the bench at Manhattan Supreme, she has seen the most hardened killers pass through her courtroom. But there's something about this trial—a defendant charged with the murder of a pregnant woman—that affects her as no other case ever has. Her chaotic, stressful home life only adds to her mounting feelings of panic and fear. She's also harboring a secret that if exposed could have far-reaching ramifications both personally and professionally. And now, unbeknownst to Alice, her daughter has begun a search for her biological father. 
As the trial progresses, Alice's life starts to unravel. Nightmares she suffered as a girl return with a vengeance. Phantom sightings torment her. Is she being paranoid? Or are the specters real? Almost at the breaking point, she begins to doubt her own sanity. Then she makes a shocking discovery that sends her on a collision course with her past and a terror-filled night in the woods in Upstate New York. Confronted with the unspeakable, she must face a decades-buried truth as she fights for her survival against a cunning adversary that forces her to question everything she ever believed about herself . . . and tests her limits as a woman, a judge, and a mother.
Narrated from the perspectives of three women—Alice, her daughter, and Alice's girlhood friend—First Victim is a suspenseful tale of guilt, justice, and long-awaited retribution.
Praise For First Victim…
Setting the standard for top-notch thrillers, First Victim is smart, compelling and filled with utterly real characters. Author Babitt brings formidable storytelling talent to the game, and is quite the stylist. Once you start this novel, you won't put it down!
— Jeffery Deaver, author of The Bone Collector and The Midnight Lock

First Victim is a powerhouse—smart, suspenseful, sensational, and full of surprises. Debbie Babitt is a born stylist. I can't wait to see what she writes next.

— William Bernhardt, bestselling author of The Last Chance Lawyer

The life of a judge presiding over a brutal murder trial begins to unravel as the case unearths ghosts from her dark past – one she's kept secret from everyone, including her grown daughter. Propulsive writing and a gripping story make First Victim one hell of a thriller!
— Wendy Walker, bestselling author of All Is Not Forgotten

An intriguing legal thriller with twists you never see coming. Take a deep breath and enjoy this one.
— Steve Berry, New York Times bestselling author of The Omega Factor
Scarlet, 9781613163023, 312pp.
Publication Date: June 14, 2022
About the Author
Debbie Babitt was Copy Director for two major Manhattan publishing companies. She has worked as an actress, a playwright, and a drama critic. Debbie is the daughter of a former federal judge and is married to a criminal defense attorney. She and her husband divide their time between New York and Florida. Saving Grace is her debut novel.