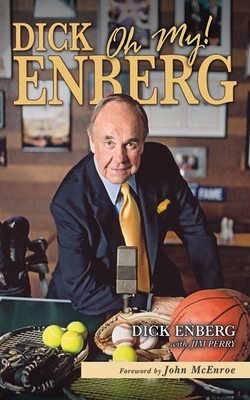 Dick Enberg (Paperback)
Oh My!
Sports Publishing, 9781613210055, 288pp.
Publication Date: January 4, 2012
* Individual store prices may vary.
Description
How did the most recognizable voice in broadcasting get his start? By asking for a mop. In this humorous, poignant, and well written autobiography, Dick Enberg shares the stories behind the voice of sports in America.

A tireless worker whose boyish enthusiasm for athletics has never diminished, Enberg ?rst walked into a radio station in 1956 to apply for a janitorial position. He wound up on the air instead and a legend was created. In the half-century that Enberg has been in the sportscasting business he has called everything from the World Series to the Super Bowl. Traveling across the country and around the world, Enberg has called football games in weather so frigid that his coffee froze before he could drink it, been challenged to a ?ght by an irate baseball player, led the Notre Dame band in a rendition of "The 1812 Overture," and been threatened with ejection at Wimbledon because he was shouting too loudly into his microphone. Those stories and hundreds more are told in Dick Enberg: Oh My! with wit and candor, as Enberg not only relives some of sports' greatest moments, but takes readers into the booth and behind the camera. "Sportscasting is a kid's dream come true," he says, "which is one of the reasons that I keep doing it. I can't let my dream go. I'm still in love with what I do."
About the Author
Dick Enberg (1935-2017), a veteran of 60 years of sports broadcasting and the author of two bestselling books, is the only person to win National Emmy Awards as a sportscaster, writer, and producer. He was inducted into the National Sports Broadcasting Hall of Fame, National Sportscaster and Sportswriters HOF, Pro Football HOF, National Basketball HOF, National Baseball HOF, Rose Bowl HOF, and Academic All-America HOF. Having joined NBC Sports in 1975, Enberg served as the play by play voice of a variety of sporting events, including but not limited to World Series, Super Bowls, Rose Bowls, and pro basketball, golf, and tennis championships. In 2000, he joined CBS Sports and ESPN. After seven seasons (2010-2016) Enberg concluded his role as the TV voice of the San Diego Padres on FSSD. A former college professor, he continued in his 30th year as the spokesperson for the collegiate Academic All-America Hall of Fame program.
or
Not Currently Available for Direct Purchase