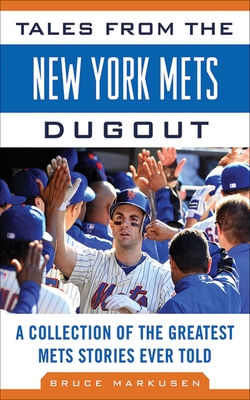 Tales from the New York Mets Dugout
A Collection of the Greatest Mets Stories Ever Told (Tales from the Team)
Hardcover

* Individual store prices may vary.
Description
In ?fty years of existence, the New York Mets have experienced almost every phase of success and failure that can be encountered by a major league team. Written by veteran baseball author Bruce Markusen, Tales from the New York Mets Dugout relives some of the favorite moments in Mets history while also telling an array of little-known stories about the players. Stand on the mound with Tom Seaver, watch from the dugout with Davey Johnson, and kneel in front of the umpire with Hall of Famer Gary Carter. Tales from the New York Mets Dugout is the perfect book for anyone who believes in something amazin'.
Sports Publishing, 9781613210314, 208pp.
Publication Date: March 14, 2012
About the Author
Bruce Markusen is the author of seven books on baseball, including the award-winning A Baseball Dynasty: Charlie Finley's Swingin' A's, the recipient of the Seymour Medal from the Society for American Baseball Research. He currently works as a museum teacher at the National Baseball Hall of Fame, the Farmers' Museum, and the Fenimore Art Museum, all located in Cooperstown. In addition to the Hardball Times, he also contributes articles to Bronx Banter.
or
Not Currently Available for Direct Purchase