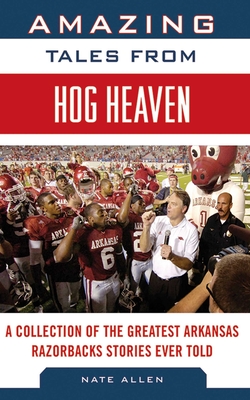 Amazing Tales from Hog Heaven (Hardcover)
A Collection of the Greatest Arkansas Razorbacks Stories Ever Told (Tales from the Team)
Sports Publishing, 9781613214046, 320pp.
Publication Date: October 1, 2013
* Individual store prices may vary.
Description
The University of Arkansas and its Razorbacks hold a special place in the hearts of Arkansans, not simply because the state has no professional sports teams, but because of the colorful players and coaches who have passed through the campus gates. Author Nate Allen chronicles the good, the bad, and the funny from UA's athletic history, as found in Tales from Hog Heaven and More Tales from Hog Heaven, in Amazing Tales from Hog Heaven. Fans will be able to read tales of some of the legendary Razorbacks through the decades—from 1st team All-American Ronnie Caveness to eventual Chicago Bears Hall of Fame player Dan Hampton, and so many others. Allen covers the football program's adjustment in 1998 from the dour Danny Ford to the upbeat Houston Nutt, and Lou Holtz's one-liners that seared their targets, but sometimes boomeranged. They will meet the legendary track coach who told one of his Irish athletes "to row back home," and read about sportswriter Orville Henry's penchant for deflating self-important bowl officials. Amazing Tales from Hog Heaven is a must-have addition to any Razorback fan's library.