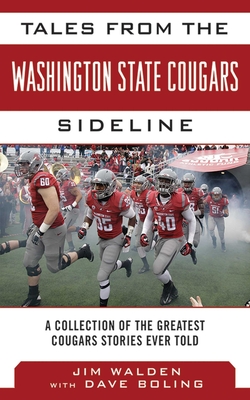 Tales from the Washington State Cougars Sideline (Hardcover)
A Collection of the Greatest Cougars Stories Ever Told (Tales from the Team)
Sports Publishing, 9781613214060, 224pp.
Publication Date: October 1, 2013
* Individual store prices may vary.
Description
During an association with the Washington State football program that started in 1977, Jim Walden established a foundation of competitive expectations that helped spur the success of contemporary Cougar teams. Walden's 1981 Cougars broke a 51-year bowl drought, and with victories in three of his last five Apple Cup games against Washington, Walden finally leveled the field with WSU's cross-state rivals. Walden's teams beat every opponent in the Pac-10 Conference at least once, squaring off against powerhouses USC, UCLA, and Washington despite a deficit in resources that he once described as "having to fight battles every Saturday with a really short sword." He kidded and sparred with coaches like Don James, John Robinson, and Terry Donahue, while ticking off a few others with his outspokenness. He offered his opinions so frequently and frankly that his university president had "The Walden Release" printed and ready as a disclaimer for the press: "The opinions of Coach Walden do not necessarily reflect the stance of the WSU administration."

In Tales from the Washington State Cougars Sideline, the stories cover players and coaches alike, including Jack "The Throwin' Samoan" Thompson, the colorful "Lone Star" Dietz, Bill Doba, and many more. Walden reveals the effective strategies and the flubs and tells what really happened on the field and in the locker rooms. He also shares the ways he was able to coax prospects into coming to remote Pullman and what he was really screaming at officials all those times. Walden tells his stories the way he coached—all out and nothing held back, with wit and humor.
About the Author
Jim Walden took a dormant program plagued by coaching turnover and turmoil and helped create the foundation for modern Washington State football success. Coaching at WSU from 1977 through 1986, he most notably snapped a 51-season bowl drought by leading the Cougars to the 1981 Holiday Bowl. He was unanimously named Pac-10 Coach of the Year in 1981. He later became a color commentator on Cougar radio broadcasts. In college Walden quarterbacked the University of Wyoming and went on to play four years in the Canadian Football League.

Dave Boling is a veteran columnist for the Tacoma News Tribune.

Bud Withers is a sports columnist for the Seattle Times. He has written about college football for over 40 years and has garnered writing awards from various organizations, including the USBWA, Associated Press Sports Editors, and the Football Writers Association of America.