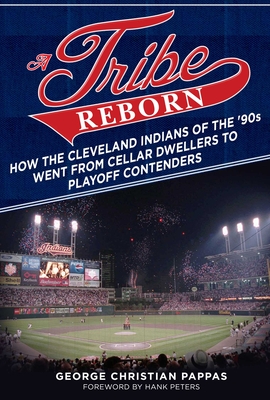 A Tribe Reborn: How the Cleveland Indians of the '90s Went from Cellar Dwellers to Playoff Contenders (Hardcover)
How the Cleveland Indians of the '90s Went from Cellar Dwellers to Playoff Contenders
Sports Publishing LLC, 9781613216378, 235pp.
Publication Date: March 4, 2014
Description
For almost 50 years, the Cleveland Indians were a joke. They had won the 1948 World Series with one of the greatest teams of all time, but had not been to the playoffs since 1954 (losing to the New York Giants in the World Series). Even the Major League movies poked fun at their inadequacy. That all changed in the 1990s, when the Indians became one of the most dominant teams of the decade. A Tribe Reborn tells the story of a failing franchise, from "The Mistake by the Lake" to "The Curse of Rocky Colavito," and how a laughingstock team that was on the verge of relocating changed its ways to become a dominant franchise. With the building of the state-of-the-art Jacobs Field (which the Indians sold out a record 455 consecutive games, from 1995-2001) to changes in how their scouting, front office, and locker room were run, the team that nobody cared about became front-page news across the country. With interviews from Jim Thome, Omar Vizquel, Mike Hargrove, John Hart, and many more, A Tribe Reborn is a fantastic look inside how a losing franchise changed its ways to become a perennial powerhouse. While the Indians of the '90s never won a World Series (appearing twice in 1995 and 1997), they are still remembered for their hard play, amazing talent, and rabid fan base. Skyhorse Publishing, as well as our Sports Publishing imprint, are proud to publish a broad range of books for readers interested in sports--books about baseball, pro football, college football, pro and college basketball, hockey, or soccer, we have a book about your sport or your team. Whether you are a New York Yankees fan or hail from Red Sox nation; whether you are a die-hard Green Bay Packers or Dallas Cowboys fan; whether you root for the Kentucky Wildcats, Louisville Cardinals, UCLA Bruins, or Kansas Jayhawks; whether you route for the Boston Bruins, Toronto Maple Leafs, Montreal Canadiens, or Los Angeles Kings; we have a book for you. While not every title we publish becomes a New York Times bestseller or a national bestseller, we are committed to publishing books on subjects that are sometimes overlooked by other publishers and to authors whose work might not otherwise find a home.

About the Author
George Christian Pappas works in baseball operations with the Tampa Bay Rays and has contributed to many media outlets, including the St. Petersburg Times and CBS Sports. Pappas has covered and worked in baseball for the New York Yankees (baseball operations) and ESPN Radio (writer and analyst). A Tribe Reborn is his first book. He currently resides in Clearwater, Florida. Henry J. "Hank" Peters is a former Major League Baseball executive whose career spanned five decades. He became only the sixth president in the history of the National Association of Professional Baseball Leagues in 1972 and went on to become the president and general manager of the Baltimore Orioles. He was named MLB Executive of the Year by the Sporting News in 1983. As president of the Cleveland Indians, he was considered the architect of the club's on-field renaissance. Peters is now retired and lives in Florida.
Advertisement