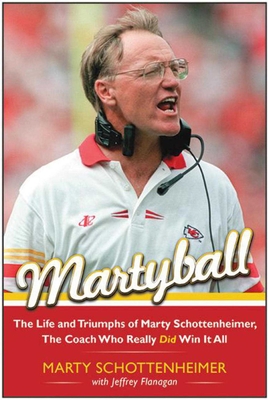 Martyball! (Paperback)
The Life and Triumphs of Marty Schottenheimer, the Coach Who Really Did Win It All
Sports Publishing, 9781613218181, 320pp.
Publication Date: October 27, 2015
* Individual store prices may vary.
Description
No coach in NFL history endured more playoff heartache than Marty Schottenheimer. Despite racking up two hundred regular-season victories, Marty never reached the Super Bowl during his coaching career. Martyball! , first published in 2012 and now in paperback for the first time, tells the story of a man who persevered through misfortune and agony that would have brought most men to their knees. But Marty never lost sight of why he fell in love with coaching: he wanted to teach and mold men through the game of football.

Based on more than one hundred hours of interviews with Marty, his players, assistants, family, and friends, this book will give readers a look into the mind of an exceptional coach and explain why he never gave up or succumbed to self-pity despite a long streak of bad luck. Get the background on Schottenheimer's life, from his childhood in rural Pennsylvania to his playing and coaching careers in pro football, and learn why he kept believing in the game he loved—and how he found valuable lessons about life and football beyond each and every loss.

Skyhorse Publishing, as well as our Sports Publishing imprint, are proud to publish a broad range of books for readers interested in sports—books about baseball, pro football, college football, pro and college basketball, hockey, or soccer, we have a book about your sport or your team.

Whether you are a New York Yankees fan or hail from Red Sox nation; whether you are a die-hard Green Bay Packers or Dallas Cowboys fan; whether you root for the Kentucky Wildcats, Louisville Cardinals, UCLA Bruins, or Kansas Jayhawks; whether you route for the Boston Bruins, Toronto Maple Leafs, Montreal Canadiens, or Los Angeles Kings; we have a book for you. While not every title we publish becomes a New York Times bestseller or a national bestseller, we are committed to publishing books on subjects that are sometimes overlooked by other publishers and to authors whose work might not otherwise find a home.
About the Author
Marty Schottenheimer was one of the most successful NFL coaches of all time, having posted a 200-126-1 record while coaching the Cleveland Browns, Kansas City Chiefs, Washington Redskins, and San Diego Chargers in over twenty-one seasons as a head coach. He won AFC Coach of the Year honors three times. Marty, a linebacker, also played six seasons of professional football and was a member of the Bills' 1965 AFL championship team. He and his wife, Pat, reside in North Carolina.
Jeffrey Flanagan has been an award-winning newspaper journalist for over twenty-five years, working at publications such as the Kansas City Star, Arizona Republic, and Decatur Herald & Review. Flanagan currently works for MLB.com covering the Kansas City Royals. Past books include Lau's Laws on Hitting, The Shame of Me, and A Sea of Red. Flanagan lives in Kansas City, Missouri.