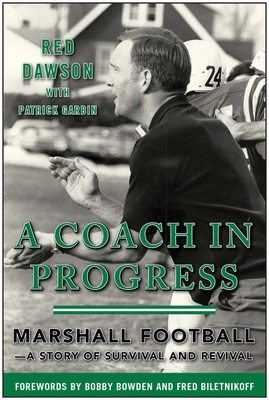 A Coach in Progress (Hardcover)
Marshall Football?A Story of Survival and Revival
Sports Publishing, 9781613218228, 260pp.
Publication Date: November 10, 2015
* Individual store prices may vary.
Description
A Coach in Progress depicts the catastrophe of the Southern Airways flight that crashed en route to Huntington, West Virginia, in 1970, killing all seventy-five passengers on board: players, coaches, and boosters of the Marshall University football team, as well as the flight crew. From this tragedy, the foundation of the Marshall football program was laid, and it has thrived ever since, culminating with the Thundering Herd being the winningest team in the NCAA Division I program in the 1990s, portrayed in the hit movie We Are Marshall, and currently under the direction of head coach Doc Holliday.

This book is written from the viewpoint of Red Dawson, a former Marshall assistant football coach, who was one of the few team members not on the plane. Still suffering from survivor's guilt decades after the crash, Red has recovered enough to finally discuss the disaster in full. What's more, Red helped build a team with mostly freshmen and walk-ons in 1971, and thus was recognized as bridging "the gap from tragedy to rebirth" of the Marshall football program.

Red also reveals what he previously would not discuss: the seemingly insurmountable obstacles he faced prior to the plane crash and the difficulties that followed the tragedy, like the heated tension that persisted between school administrators and a harassed and confused Red as they all attempted to rebuild the devastated program.

This book is the story of Red Dawson's involvement with Marshall football during the last near half century spent living with the memories of the worst sports-related air tragedy in history.

Skyhorse Publishing, as well as our Sports Publishing imprint, are proud to publish a broad range of books for readers interested in sports—books about baseball, pro football, college football, pro and college basketball, hockey, or soccer, we have a book about your sport or your team.

Whether you are a New York Yankees fan or hail from Red Sox nation; whether you are a die-hard Green Bay Packers or Dallas Cowboys fan; whether you root for the Kentucky Wildcats, Louisville Cardinals, UCLA Bruins, or Kansas Jayhawks; whether you route for the Boston Bruins, Toronto Maple Leafs, Montreal Canadiens, or Los Angeles Kings; we have a book for you. While not every title we publish becomes a New York Times bestseller or a national bestseller, we are committed to publishing books on subjects that are sometimes overlooked by other publishers and to authors whose work might not otherwise find a home.
About the Author
Red Dawson was a standout offensive and defensive end at Florida State and was enshrined in the FSU Hall of Fame in 1993. Selected in both the NFL and AFL drafts, he was a member of professional teams in the NFL (New England Patriots), the Canadian Football League, and the Continental Football League. Red became an assistant coach at Marshall in 1968. After his coaching career ended in the early 1970s, Red worked in construction, eventually opening and operating Red Dawson Construction Company in Huntington for decades. Now retired, he spends his time public speaking and painting distinguished works of art.
Patrick Garbin is a freelance journalist who has authored eight books, seven of which are on college football. Currently, he is the UGA football beat writer for DawgTime.com and maintains the About Them Dawgs! Blawg on UGA athletics.
Bobby Bowden is a retired college football coach who coached the Florida State Seminoles from 1976-2009.
Fred Biletnikoff is a Pro Football Hall of Famer who played for the Oakland Raiders.