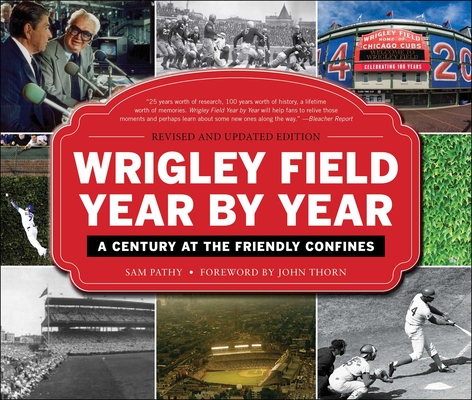 Wrigley Field Year by Year (Hardcover)
A Century at the Friendly Confines
Sports Publishing, 9781613218778, 400pp.
Publication Date: July 19, 2016
Other Editions of This Title:
Hardcover (2/11/2014)
Hardcover (5/7/2019)
* Individual store prices may vary.
Description
More than just a lavishly illustrated and highly readable book, Wrigley Field Year by Year, originally published in 2014, is the result of a quarter century of meticulous research. Written by a baseball historian and recognized authority on the "Friendly Confines," this is the first book to detail each year of the storied park's existence. The book covers not only the Chicago Cubs and the Chicago Federal League baseball teams in detail, it touches on the Chicago Bears football team, basketball, hockey, high school sports, track and field, and political rallies. It references activities and changes throughout the park and in its neighborhood on Chicago's North Side. In addition to pertinent Cubs statistics, the author's year-by-year coverage includes:
A "game of the year"
A description of unusual and interesting happenings in the ballpark
A quote from the year that best captures its essence
Supplementing the year-by-year approach are nine chapters that divide Wrigley Field's rich history into nine "innings" along with informative appendixes that will delight every Cubs fan, from the casual to the obsessed. The book's easy-to-use format and wealth of information make it a resource that readers will turn to again and again.

Skyhorse Publishing, as well as our Sports Publishing imprint, are proud to publish a broad range of books for readers interested in sports—books about baseball, pro football, college football, pro and college basketball, hockey, or soccer, we have a book about your sport or your team.

Whether you are a New York Yankees fan or hail from Red Sox nation; whether you are a die-hard Green Bay Packers or Dallas Cowboys fan; whether you root for the Kentucky Wildcats, Louisville Cardinals, UCLA Bruins, or Kansas Jayhawks; whether you route for the Boston Bruins, Toronto Maple Leafs, Montreal Canadiens, or Los Angeles Kings; we have a book for you. While not every title we publish becomes a New York Times bestseller or a national bestseller, we are committed to publishing books on subjects that are sometimes overlooked by other publishers and to authors whose work might not otherwise find a home.
About the Author
Sam Pathy is a public librarian and member of the Society for American Baseball Research. He has contributed to the Baseball Research Journal and has spent the past twenty-five years researching the history of Wrigley Field.

John Thorn is the official historian of Major League Baseball. Apart from his creation, with Pete Palmer, of Total Baseball, he is often visible on ESPN, MLBTV, the History Channel, and other television outlets as a sports authority and commentator. He was also a major on-screen presence in and chief consultant to Ken Burns's 18 ½-hour PBS film Baseball. Thorn co-wrote The Hidden Game of Baseball and has written several other books on baseball, including Treasures of the Baseball Hall of Fame, The Game for All America, and Baseball in the Garden of Eden: A Secret History of the Early Game.
Praise For Wrigley Field Year by Year: A Century at the Friendly Confines…
"There has never been a book that chronicled the entire history of a baseball park by the year. That is, not until now. . . Every Cubs fan should savor it: 25 years worth of research, 100 years worth of history, a lifetime worth of memories. Wrigley Field Year by Year will help fans to relive those moments and perhaps learn about some new ones along the way."—Bleacher Report

"There has never been a book that chronicled the entire history of a baseball park by the year. That is, not until now. . . Every Cubs fan should savor it: 25 years worth of research, 100 years worth of history, a lifetime worth of memories. Wrigley Field Year by Year will help fans to relive those moments and perhaps learn about some new ones along the way."—Bleacher Report