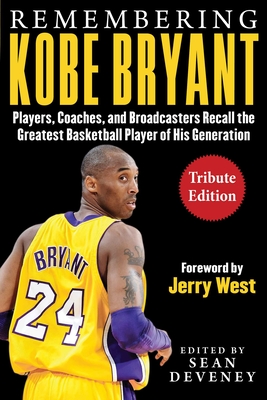 Facing Kobe Bryant (Paperback)
Players, Coaches, and Broadcasters Recall the Greatest Basketball Player of His Generation
Sports Publishing, 9781613219775, 192pp.
Publication Date: October 4, 2016
* Individual store prices may vary.
Description
When he entered the NBA in 1996 as a high-school star from Lower Merion, Pennsylvania, Kobe Bryant faced enormous expectations. No one can deny that he rose to the challenge. Nineteen years later, Bryant's status as a Hall of Fame player is assured. During his stellar career, Bryant won five NBA championships; was a seventeen-time All-Star, NBA MVP, and two-time NBA Finals MVP. He led the league in scoring in 2006 and 2007.

Now for the first time, hear stories from opponents, teammates, and players about what it was like to go against Kobe in Facing Kobe Bryant. Contributors include:

• Charles Barkley
• Grant Hill
• Reggie Miller
• And many more!

Kobe Bryant was the greatest basketball player of his generation—a former schoolboy prodigy whose moves are now imitated in gyms and playgrounds around the world. Facing Kobe Bryant provides an unprecedented glimpse into what it was like to play against one of the best of all time.

Skyhorse Publishing, as well as our Sports Publishing imprint, are proud to publish a broad range of books for readers interested in sports—books about baseball, pro football, college football, pro and college basketball, hockey, or soccer, we have a book about your sport or your team.

Whether you are a New York Yankees fan or hail from Red Sox nation; whether you are a die-hard Green Bay Packers or Dallas Cowboys fan; whether you root for the Kentucky Wildcats, Louisville Cardinals, UCLA Bruins, or Kansas Jayhawks; whether you route for the Boston Bruins, Toronto Maple Leafs, Montreal Canadiens, or Los Angeles Kings; we have a book for you. While not every title we publish becomes a New York Times bestseller or a national bestseller, we are committed to publishing books on subjects that are sometimes overlooked by other publishers and to authors whose work might not otherwise find a home.
About the Author
Sean Deveney has been a writer and editor at Sporting News since 1999, covering all aspects of sports. He has authored four books, including The Original Curse, Facing Ted Williams, and Before Wrigley Became Wrigley.