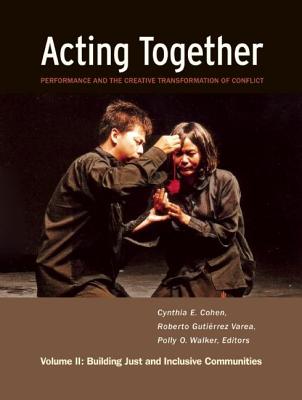 Acting Together II: Performance and the Creative Transformation of Conflict: Building Just and Inclusive Communities (Paperback)
Performance and the Creative Transformation of Conflict: Building Just and Inclusive Communities
New Village Press, 9781613320006, 304pp.
Publication Date: December 1, 2011
* Individual store prices may vary.
or
Not Currently Available for Direct Purchase
Description
Acting Together: Performance and the Creative Transformation of Conflict is a two-volume work describing peacebuilding performances in regions beset by violence and internal conflicts. Whereas Volume I, Resistance and Reconciliation in Regions of Violence, emphasizes the role theatre and ritual play both in the midst and in the aftermath of direct violence, Volume II, Building Just and Inclusive Communities, focuses on the transformative power of performance in regions fractured by "subtler" forms of structural violence and social exclusion. The case studies in this volume document examples from Afghanistan, Australia, Ghana, the Netherlands, South Africa, and the United States. This volume also offers resources, tools, and recommendations to help educators, artists, students, policymakers, and funders alike to become involved with, and contribute to, the emerging field of peacebuilding performance.
The Acting Together project documents how divided communities in conflict regions across the globe draw on the power of performance to express silenced truths, rebuild severed relationships, and work toward justice. Born in 2005 of a partnership between the International Center for Ethics, Justice, and Public Life at Brandeis University and Theatre Without Borders, the project grew to include the two-volume anthology Acting Together, the feature-length documentary film Acting Together on the World Stage, a website of related materials, and a toolkit, or "Tools for Continuing the Conversation," included with the documentary as a second disc and featuring practical guidelines and templates for further action. Taken together, these resources yield rich case studies, theoretical frameworks, and recommendations to help practitioners, educators, students, and policymakers understand and strengthen the emerging field of peacebuilding performance.
About the Author
Cynthia E. Cohen is director of the program in Peacebuilding and the Arts at the International Center for Ethics, Justice and Public Life at Brandeis University. In that role, she leads research and action partnerships, teaches at the undergraduate and graduate levels, and leads professional development workshops and institutes for practitioners. She is principal investigator in an on-going inquiry into Creative Approaches to Coexistence and Reconciliation and writes on the ethical and aesthetic dimensions of reconciliation. Since 2005, Cohen has worked in collaboration with Theatre Without Borders on Acting Together on the World Stage, a project that is culminating in this original anthology, a documentary film, a website and a toolkit for practitioners. Cohen was the founding director of the Oral History Center in Cambridge, Massachusetts, and she has facilitated coexistence efforts involving participants from the Middle East, the U.S., Central America, and Sri Lanka. She holds a doctorate in Education from the University of New Hampshire, a masters degree in City Planning from MIT, and a bachelors degree in Ethnomusicology from Wesleyan University. Roberto Gutierrez Varea began his career in theater in his native city of Cordoba, Argentina. His research and creative work focuses on live performance as a means of resistance and peacebuilding in the context of social conflict and state violence. Varea's stage work in the United States has focused on Latin@/Chican@ theatre, directing world or West-Coast premieres of works by Migdalia Cruz, Ariel Dorfman, Cherrie Moraga, and Jose Rivera (among others). He is the founding artistic director of community-based performance groups Soapstone Theatre Company, and El Teatro Jornalero!, and cofounder of the San Francisco-based collective Secos & Mojados. He is an associate editor of Peace Review (Routledge) and guest-edited the Hemispheric Institute of Performance and Politics' e-misferica. Varea is a founding faculty of the Performing Arts and Social Justice Program, and director of the Center for Latino Studies in the Americas (CELASA), at the University of San Francisco. Polly O. Walker is assistant professor of peace and conflict studies at Juniata College in Huntingdon, Pennsylvania. She is director of Partners in Peacebuilding, a private consulting organization based in Brisbane, Australia, and lectures widely on intercultural conflict resolution. Previously awarded the University of Queensland Postdoctoral Research Fellowship for Women, she conducted research on the role of memorial ceremonies in transforming conflict involving Indigenous and Settler peoples in the United States and Australia. She has published articles in a broad range of international journals, and contributed chapters to several texts on conflict transformation. She is vice-chair of the Indigenous Education Institute, a research and practice institute created for the preservation and contemporary application of Indigenous traditional knowledge. Walker is of Cherokee and Settler descent and grew up in the traditional country of the Mescalero Apache.
Advertisement