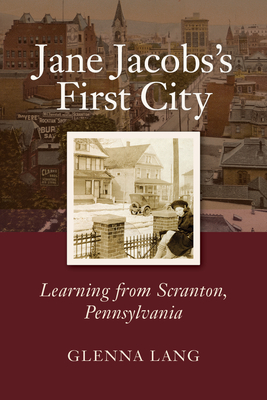 Jane Jacobs's First City
Learning from Scranton, Pennsylvania
Hardcover

* Individual store prices may vary.
Description
A thorough investigation of how Jane Jacobs's ideas about the life and economy of great cities grew from her home city, Scranton
Jane Jacobs's First City
vividly reveals how this influential thinker and writer's classic works germinated in the once vibrant, mid-size city of Scranton, Pennsylvania, where Jane spent her initial eighteen years. In the 1920s and 1930s, Scranton was a place of enormous di-versity and opportunity. Small businesses of all kinds abounded and flourished, quality public education was supported by all, and even recent immi-grants could save enough to buy a house. Opposing political parties joined forces to tackle problems, and citizens worked together for the public good. Through interviews with contemporary Scrantonians and research of historic newspapers, city directories, and vital records, author Glenna Lang has uncovered Scranton as young Jane experienced it and shows us the lasting impact of her growing up in this thriving and accessible environment. Readers can follow the development of Jane's acute observational abilities from childhood through her passion in early adulthood to understand and write about what she saw. Reflecting Jane's belief in trusting one's own direct observation above all, this volume has been richly illustrated with historic and modern color images that help bring alive a past Scranton. The book demonstrates why, at the end of Jacobs's life, her thoughts and conversations increasingly returned to Scranton and the potential for cohesion and inclusiveness in all cities.
New Village Press, 9781613321393, 468pp.
Publication Date: May 4, 2021
About the Author
Author Glenna Lang's previous work about Jane Jacobs--Genius of Common Sense: The Story of Jane Jacobs and "The Death and Life of Great American Cities"--aimed to inspire young adults but appealed to all ages in the general public and at universities. It was chosen as a 2009 Notable Book by both the New York Times and Smithsonian Magazine. As an illustrator, she produced four classic poems as picture books for children with David R. Godine, Publisher. Lang wrote and illustrated Looking Out for Sarah, about a day in the life of a seeing-eye dog, which won the American Library Association's Schneider Family Award. Although she grew up mainly in New York City, she has lived for many years in Cambridge, Massachusetts, and teaches at the School of the Museum of Fine Arts, now part of Tufts University. She has loved spending time in Scranton with her husband, Alexander von Hoffman, and their dog, Easy.