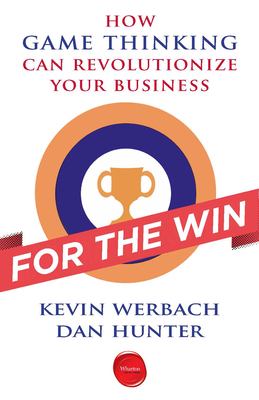 For the Win
How Game Thinking Can Revolutionize Your Business
Paperback

* Individual store prices may vary.
Other Editions of This Title:
Digital Audiobook (9/30/2013)
MP3 CD (10/1/2013)
Compact Disc (10/1/2013)
Description
Take your business to the next level--for the win Millions flock to their computers, consoles, mobile phones, tablets, and social networks each day to play World of Warcraft, Farmville, Scrabble, and countless other games, generating billions in sales each year. The careful and skillful construction of these games is built on decades of research into human motivation and psychology: A well-designed game goes right to the motivational heart of the human psyche. In For the Win, authors Kevin Werbach and Dan Hunter argue persuasively that gamemakers need not be the only ones benefiting from game design. Werbach and Hunter are lawyers and World of Warcraft players who created the world's first course on gamification at the Wharton School. In their book, they reveal how game thinking--addressing problems like a game designer--can motivate employees and customers and create engaging experiences that can transform your business. For the Win reveals how a wide range of companies are successfully using game thinking. It also offers an explanation of when gamifying makes the most sense and a 6-step framework for using games for marketing, productivity enhancement, innovation, employee motivation, customer engagement, and more. In this illuminating guide, Werbach and Hunter reveal how game thinking can yield winning solutions to real-world business problems. Let the games begin.
Praise For For the Win: How Game Thinking Can Revolutionize Your Business…
For the Win is a total win! In the 21st century, business must shift from push to pull to get the best out of their employees and to entice their customers. This book brilliantly explains how to design and use gamification techniques to that end. I highly recommend this useful and fun to read book."
John Seely Brown, Coauthor of The Power of Pull and A New Culture of Learning; Co-chairman, Deloitte Center for the Edge; Former Chief Scientist, Xerox Corporation and Director of its Palo Alto Research Center (PARC)

If you want to understand one of the most important trends in business today, go out and buy For the Win. Werbach and Hunter reveal the secrets to powering up your organization through game thinking. Read this book. It's a game changer."
Brad Feld, Managing Director, Foundry Group; Co-author of Do More Faster

If you prefer realism to hype and rationality to bandwagons, this is the gamification book for you. As a work about gamification today, this book is excellent; as a work about gamification tomorrow, it's staggeringly excellent."
Richard Bartle, Professor, University of Essex; Creator of MUD1, the first multiplayer online game; Author of Designing Virtual Worlds

Like gamification, this book is a fusion of human nature and good design. Far and away the best book on the subject, with the most examples and the best intellectual grasp of the topics."
Bing Gordon, Partner, Kleiner Perkins Caufield & Byers; former Chief Creative Officer, Electronic Arts

Every business executive, small business owner and public servant should read this book; the public and private benefits would be enormous. I'm not kidding. If you're even half as blown away as I was by For the Win, it'll be your best book purchase of the year. Applying game thinking' to everyday life might just change well, everything. Read the book and you'll see what I mean."
Jessica Mulligan, Online game pioneer and co-founder, Themis Group

A wonderfully written, funny, and timely work. Should be required reading for anyone pursing a modern undertaking utilizing these concepts. As the concept of gamifying' continues to grow, the importance of this text will continue to emerge."
Professor Andrew Phelps, Director, School of Interactive Games & Media, Rochester Institute of Technology

For the Win hits a home run in illustrating the business value of gamification for both small and large companies across the globe."
Kris Duggan, CEO, Badgeville
Wharton Digital Press, 9781613630235, 144pp.
Publication Date: October 30, 2012
About the Author
Kevin Werbach is an associate professor of legal studies and business ethics at The Wharton School, University of Pennsylvania. He is also the founder of the Supernova Group, a technology analysis and consulting firm. He co-led the review of the Federal Communications Commission for the Obama-Biden Transition Project. Called "one of the few policy wonks who really got it" by Wired, he helped develop the United States Government's e-commerce policy, shaped the FCC's approach to Internet issues, and authored Digital Tornado, the first comprehensive analysis of the implications of the Internet. A sought-after speaker and commentator, Werbach appears frequently in print and broadcast media including CNN, CNBC, NPR, ABC News, USA Today, The New York Times, The Wall Street Journal, and The Washington Post. His writing has appeared in Harvard Business Review, Fortune, The Industry Standard, The Philadelphia Inquirer, and Slate, among other publications. He blogs at http: //werblog.com and tweets at @kwerb. Dan Hunter is an expert in internet law, intellectual property, and the application of games to public policy arenas. He is a professor of law at New York Law School and the director of the school's Institute for Information Law & Policy. He is also an adjunct associate professor of legal studies at The Wharton School, University of Pennsylvania. His research has appeared in journals such as the California Law Review, the Texas Law Review, the William & Mary Law Review, and the Journal of Legal Education. Hunter is a judge for the resolution of domain name disputes for the World Intellectual Property Organization, and is on the editorial board of numerous journals. He was one of the first scholars to examine the social significance of virtual worlds, and he co-founded the scholarly blog Terra Nova (terranova.blogs.com).
or
Not Currently Available for Direct Purchase