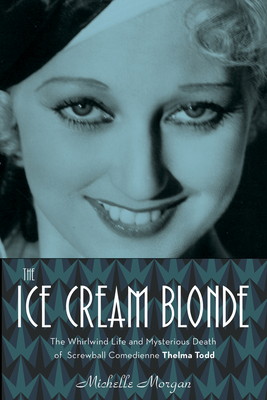 The Ice Cream Blonde
The Whirlwind Life and Mysterious Death of Screwball Comedienne Thelma Todd
Hardcover

* Individual store prices may vary.
Description
A beloved film comedienne who worked alongside the Marx Brothers, Laurel and Hardy, and dozens of others, Thelma Todd was a rare Golden Age star who successfully crossed over from silent films to talkies. This authoritative new biography traces Todd's life from a vivacious little girl who tried to assuage her parents' grief over her brother's death, to an aspiring teacher turned reluctant beauty queen, to an outspoken movie starlet and restaurateur.

Increasingly disenchanted with Hollywood, in 1934 Todd opened Thelma Todd's Sidewalk Café, a hot spot that attracted fans, tourists, and celebrities. Despite success in film and business, privately the beautiful actress was having a difficult year–receiving disturbing threats from a stranger known as the Ace and having her home ransacked–when she was found dead in a garage near her café. An inquest concluded that her death, at age just twenty-nine, was accidental, but in a thorough new investigation that draws on interviews, photographs, documents, and extortion notes–much of these not previously available to the public–Michelle Morgan offers a compelling new theory, suggesting the sequence of events on the night of her death and arguing what many people have long suspected: that Thelma was murdered.

But by whom?

The suspects include Thelma's movie-director lover, her would-be-gangster ex-husband, and the thugs who were pressuring her to install gaming tables in her popular café–including a new, never-before-named mobster. This fresh examination on the eightieth anniversary of the star's death is sure to interest any fan of Thelma Todd, of Hollywood's Golden Age, or of gripping real-life murder mysteries.
Praise For The Ice Cream Blonde: The Whirlwind Life and Mysterious Death of Screwball Comedienne Thelma Todd…
"The Ice Cream Blonde is a riveting mystery about the death of Thelma Todd. It's also an eerie exploration of the Todd dichotomy—breezy comedienne on the one hand; serious businesswoman with underworld connections on the other. Highly recommended." —Robert Matzen, author of Fireball: Carole Lombard and the Mystery of Flight 3
"The Ice Cream Blonde gives an engaging and balanced look at the fascinating life and notorious death of Thelma Todd. Michelle Morgan proves once again that she is expert researcher who can tackle a controversial subject justly, and through her, Thelma Todd becomes much more than just a scandalous Hollywood footnote." —Christina Rice, author Ann Dvorak: Hollywood's Forgotten Rebel
"In Ice Cream Blonde, biographer Michelle Morgan shows us why Thelma Todd was so beloved to her family, co-workers, and fans.  In the final riveting chapters, Morgan exposes the dangerous world Todd lived in and the shadowy figures she let into her life.  Finally, 80 years after her death, we understand why Todd's last days were more unsettling and disturbing than any role Hollywood could have written for her." —Michael G. Ankerich, author of Mae Murray: The Girl with the Bee-Stung Lips
"Author Morgan does meticulous work, not only about all the strangeness surrounding Todd's death, but the actresses' slow, steady and mostly unsatisfying climb." —New York Social Diary
"a great read, and also timely." —Huffington Post
"Morgan presents a biography sure to appeal to fans of Hollywood's Golden Era rich in significant details about Todd's life and aimed at ending speculation about the death of this versatile actress." —Booklist
"A truly exceptional and impressively researched biography that reads as smoothly as any riveting suspense novel."  —The Midwest Book Review
"Morgan digs into the complexities of Thelma's last night, and the events that would follow, with a strong investigative eye." — indieWIRE
"This is a well-researched and invigorating celebration of a talent that does not deserve to be forgotten." —EDGE
"a good read, especially for anyone interested in the heyday of Hollywood with all its dirty little secrets." —New York Journal of Books
Chicago Review Press, 9781613730386, 288pp.
Publication Date: November 1, 2015
About the Author
Michelle Morgan is the author of The Mammoth Book of Hollywood Scandals, The Mammoth Book of Madonna, and several books about Marilyn Monroe: Marilyn Monroe: Private and Confidential, Before Marilyn: The Blue Book Modeling Years, and Marilyn's Addresses: A Fan's Guide to the Places She Knew.