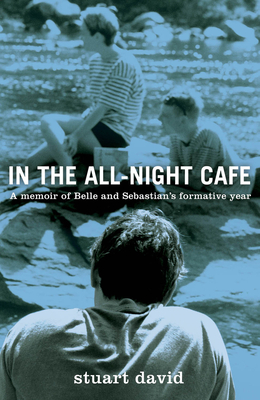 In the All-Night Café (Paperback)
A Memoir of Belle and Sebastian's Formative Year
Chicago Review Press, 9781613730782, 208pp.
Publication Date: May 1, 2015
* Individual store prices may vary.
Description
"One afternoon in 1994, I had an idea." So begins Stuart David's charming, evocative memoir about the indie pop band Belle and Sebastian.
 
Determined to make his living writing stories and songs, Stuart had spent several years scraping by on the dole in his small, industrial hometown. Then he had the fateful idea to learn bass guitar, and to head for Glasgow in search of likeminded artists.
 
In the All-Night Café describes his fortuitous meeting with the group's cofounder Stuart Murdoch in a course for unemployed musicians. It tells of their adventures in two early incarnations of Belle and Sebastian and culminates in the recording of their celebrated debut album, Tigermilk.
 
This portrait of the group and its origins will resonate with anyone who has put together—or thought of putting together—a band. It is a story of a group of friends who wanted to create a different kind of music, and how—against all expectations—they succeeded.
 
Written with wit, affection, and a novelist's observant eye, In the All-Night Café brings to life the early days of this most enigmatic and intriguing of bands.

About the Author
Stuart David is a Scottish musician, songwriter, and novelist. After cofounding Belle and Sebastian, he went on to front Looper. The New York Times Book Review wrote of his first novel, "At once riveting and sad, Nalda Said turns out to be uncommonly true to life," and the Guardian called it "a fabulous novel . . . a stunning insight into reclusion." He is the author of two other novels, The Peacock Manifesto and A Peacock's Tale.
Praise For In the All-Night Café: A Memoir of Belle and Sebastian's Formative Year…
"This slim, charming memoir...brings warmth and wit to tales of mixtapes, house shows and their haphazard path to becoming one of indie rock's greatest acts." —Rolling Stone

"David takes a magical meander down memory lane to the early years of Belle and Sebastian... a lovely look at a lost world" —Charlotte Heathcote, Sunday Express
"Masterful and often-moving" —Sukhdev Sandhu, The Guardian
"David's naiveté and honesty, though it surely brought him pain in those days, serves him well as a writer...The quality that makes In the All-Night Café great is the sophisticated way David treats his lingering feelings toward his former bandmate." —Paste Magazine
"David has discovered what eluded him during the period he is writing about: his own creative identity, one that is made manifest in the memoir's calm, observant voice. The end product is a funny and unpretentious meditation on finding your own shambolic magic, probably best enjoyed with a cup of (thick Scottish) tea." —Los Angeles Review of Books
"Stuart David was the cofounder and bass player of the band, and the memoir he has written here is much like Belle and Sebastian's music: gentle, delicate, and wistful." —Booklist
"David possesses a whimsical narrative voice that balances optimism and realism with a clear-eyed, easy grace...It's well-written, personal, friendly, and quirky – just like a good Belle and Sebastian song." —Houston Press
"David's prose, light and airy but blessed with a wonderful eye for detail and nuance, interestingly mimics the feel of a Belle and Sebastian song." —Consequence of Sound
"an examination of the difference between talent and genius." And "I thought it was a lovely, modest, in the the best sense of the word, book. And I highly recommend it." —Stephen Metcalf on Slate's Culture Gabfest podcast
"The weird, slightly magical story of a strange place and time that spawned an important band. The great thing is that the book somehow heightens the band's mystique rather than bursting a bubble." —The A.V. Club