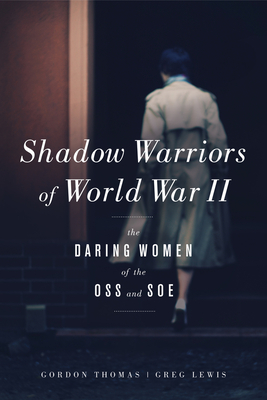 Shadow Warriors of World War II
The Daring Women of the OSS and SOE
Hardcover

* Individual store prices may vary.
Other Editions of This Title:
Compact Disc (1/1/2017)
Compact Disc (1/1/2017)
MP3 CD (1/1/2017)
Hardcover (1/1/2017)
Description
They were told that the only crime they must never commit was to be caught. Women of enormous cunning and strength of will, the Shadow Warriors' stories have remained largely untold until now. In a dramatic tale of espionage and conspiracy in World War II, Shadow Warriors of World War II: The Daring Women of the OSS and SOE unveils the history of the courageous women who volunteered to work behind enemy lines.
            Sent into Nazi-occupied Europe by the United States' Office of Strategic Services (OSS) and Britain's Special Operations Executive (SOE), these women helped establish a web of resistance groups across the continent. Their extraordinary heroism, initiative, and resourcefulness contributed to the Allied breakout of the Normandy beachheads and to the eventual victory over Hitler. Young and daring, the female agents accepted that they could be captured, tortured, or killed, but others were always readied to take their place. So effective did the female agents become in their efforts, the Germans placed a price of a million francs on the heads of operatives who were successfully disrupting their troops.
Praise For Shadow Warriors of World War II: The Daring Women of the OSS and SOE…
"The riveting stories of the courageous British and American female special agents rattle out in quick-fire bursts from these pages. But what gives this book weight is the interweaving of the SOE and OSS narratives, all to much divorced in histories of the secret war." —Clare Mulley, author of The Spy Who Loved: The Secrets and Lives
of Christine Granville and The Woman Who Saved the Children
"A welcome addition to WWII literature." —Kirkus Reviews
"This is an invaluable historical account, shedding light on the heroism and bravery of the women spies who helped usher the Allied forces toward a victory." —ForeWord
"Exceptionally well written, organized and presented, Shadow Warriors of World War II is strongly and unreservedly recommended as a critically important contribution to community, college, and university library World War II Military History collections and supplemental studies reading lists." —Midwest Book Review

"There is no shortage of suspense and agony, all written in a smooth and easy-to-read style." —The Internet Review of Books
Chicago Review Press, 9781613730867, 304pp.
Publication Date: January 1, 2017
About the Author
Gordon Thomas is the author of Gideon's Spies and Operation Exodus, and the recipient of two Mark Twain Society Awards, an Edgar Award, and the Citizens Commission for Human Rights Lifetime Achievement Award for Investigative Journalism.

Greg Lewis is a journalist, BAFTA award–winning producer, and author of several books, including A Bullet Saved My Life and The Death of Justice. 
1. Shadow Warriors describes how in World War II women were trained as spies on a large scale for the first time. What advantages did the Allied intelligence services believe female agents had over men?
2. Betty Pack used her sexuality to gain men's trust and obtain information for the British and Americans. Discuss how she viewed espionage and extra marital affairs. In what ways did she see both deceptions as the same? In what ways did she see her way of spying as different from those who carried a gun?
3. Wireless operator Yvonne Cormeau learned that she should not wear a watch while posing as a farmer's wife, as French peasants did not wear one. What else did the women learn about disguising themselves behind enemy lines?
4. Virginia Hall was one of the Allies' most successful agents in occupied France, even though she had lost part of her leg in an accident before the war. How did she did use her work as a journalist to help her as a spy? What changed for her after America entered the war?
5. Why was life for a female wireless operator particularly dangerous? What did people like Yvonne Cormeau do to reduce their chances of capture?
6. When Elizabeth Devereaux Rochester arrived in France she appealed for weapons to be sent to the French resistance. British intelligence immediately picked her to return to occupied France and she was delighted. Why do you think this was? Why do you think she was eager to return? Why do you think SOE officers were reluctant to believe that some of their radio operators had been captured?
7. As the intelligence networks grew and more agents arrived in France security became more difficult. Why was that?
8. Odette Sansom felt a fear that "anything could happen at anytime." What were the most difficult things about spying behind enemy lines? How would you cope with leading a double life?
9. When Pearl Witherington was offered a medal for civilian work she returned it. She said her work was of a "purely military nature." What do you think about the way the women were treated by the authorities after the war?