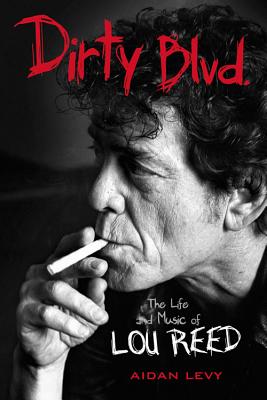 Dirty Blvd. (Hardcover)
The Life and Music of Lou Reed
Chicago Review Press, 9781613731062, 448pp.
Publication Date: October 15, 2015
Other Editions of This Title:
Paperback (10/1/2016)
MP3 CD (10/1/2015)
Compact Disc (10/1/2015)
* Individual store prices may vary.
Description
Lou Reed made it his mission to rub people the wrong way, whether it was with the noise rock he produced with the Velvet Underground in the late 1960s or his polarizing work with Metallica that would prove to be his swan song. On a personal level, too, he seemed to take pleasure in insulting everyone who crossed his path. How did this Jewish boy from Long Island, an adolescent doo-wop singer, rise to the status of Godfather of Punk? And how did he maintain that status for decades?

Dirty Blvd.—the first new biography of Reed since his death in 2013—digs deep to answer those questions. And along the way it shows us the tender side of his prickly personality.

Born in Brooklyn, Reed was the son of an accountant and a former beauty queen, but he took the road less traveled, trading literary promise for an entry-level job as a budget-label songwriter and founding the Velvet Underground under the aegis of Andy Warhol. The cult of personality surrounding his transformation from downtown agent provocateur to Phantom of Rock and finally to patron saint of the avant-garde was legendary, but there was more to his artistic evolution than his abrasive public persona. The lives of many American rock stars have had no second act, but Reed's did.

Dirty Blvd. not only covers the highlights of Reed's career but also explores lesser-known facets of his work, such as his first recordings with doo-wop group the Jades, his key literary influences and the impact of Judaism upon his work, and his engagement with the LGBT movement. Drawing from new interviews with many of his artistic collaborators, friends, and romantic partners, as well as from archival material, concert footage, and unreleased bootlegs of live performances, author Aidan Levy paints an intimate portrait of the notoriously uncompromising rock poet who wrote "Heroin," "Sweet Jane," "Walk on the Wild Side," and "Street Hassle"—songs that transcended their genre and established Lou Reed as one of the most influential and enigmatic American artists of the past half-century.
About the Author
Aidan Levy has written for the New York Times, the Village Voice, JazzTimes, and the Daily Forward, among others.  
Praise For Dirty Blvd.: The Life and Music of Lou Reed…
"Reading Aidan Levy's Dirty Blvd. is like rolling down lower Broadway after a tickertape parade, a nocturne for Lou Reed piled high with twinkling treasures, dark skeins of insight, and drifts of American excess. It's a night of a thousand eyes, a book of deep focus, peering with the rapt intent of a biography and the empathy of a memoir. Born of Jewish parents who hoped to assimilate, Lou was a man who could not.  From shock treatment he lunged into shock-rock, singing and living like a rat poet caught in a trap. Levy finds it all on this boulevard, searching for Lou's art with his own heart where it clearly still lives and breathes. And if, as Lou's life-mate said with his parting, we die a final death the last time someone utters our name, then Levy has done his part to keep that name forever on our lips. A startling, beautiful and defiant literary debut. Rock this book!"  —Stephen Molton, author, screenwriter, producer and professor.  His books include the novel, Brave Talk, and Brothers in Arms: The Kennedys, the Castros, and the Politics of Murder, co-written with Gus Russo.
"Lou Reed was much more than 'Walk on the Wild Side' and glam rock. He was the voice of the disaffected and the disenchanted, the scourge of comfort and convention, the enfant terrible of literary rock, and, very often, one of the great tender-hearted poets of New York City. Aidan Levy shines a light into unexamined corners of this singular life and enlarges our sense of his subject's spiky unforgettable character." —Peter Blauner, bestselling author of Slipping into Darkness and Slow Motion Riot
"A valuable study of Reed, further cementing his totemic influence as the high priest of art rock." —Kirkus Reviews 
"this skillfully written and respectful biography takes us through Reed's life and career. […] Levy has produced an informative and insightful look at a rock star and songwriter whose work always cut a little deeper than that of his peers." —Booklist
 "Levy does a splendid job debunking the myths surrounding the musician…[…] this study is about as close to a must-read book on Reed as one can get." —Library Journal
or
Not Currently Available for Direct Purchase