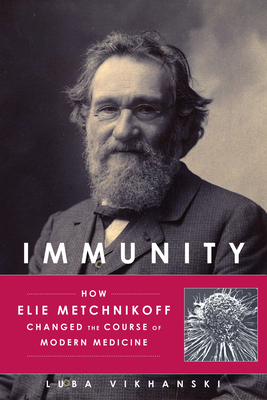 Immunity (Hardcover)
How Elie Metchnikoff Changed the Course of Modern Medicine
Chicago Review Press, 9781613731109, 336pp.
Publication Date: April 1, 2016
* Individual store prices may vary.
Description
Around Christmas of 1882, while peering through a microscope at starfish larvae in which he had inserted tiny thorns, Russian zoologist Elie Metchnikoff had a brilliant insight: what if the mobile cells he saw gathering around the thorns were nothing but a healing force in action? Metchnikoff's daring theory of immunity—that voracious cells he called phagocytes formed the first line of defense against invading bacteria—would eventually earn the scientist a Nobel Prize, shared with his archrival, as well as the unofficial moniker "Father of Natural Immunity." But first he had to win over skeptics, especially those who called his theory "an oriental fairy tale."

Using previously inaccessible archival materials, author Luba Vikhanski chronicles Metchnikoff's remarkable life and discoveries in the first moder n biography of this hero of medicine. Metchnikoff was a towering figure in the scientific community of the early twentieth century, a tireless humanitarian who, while working at the Pasteur Institute in Paris, also strived to curb the spread of cholera, syphilis, and other deadly diseases. In his later years, he startled the world with controversial theories on longevity, launching a global craze for yogurt, and pioneered research into gut microbes and aging. Though Metchnikoff was largely forgotten for nearly a hundred years, Vikhanski documents a remarkable revival of interest in his ideas on immunity and on the gut flora in the science of the twenty-first century.
About the Author
Luba Vikhanski is an awardwinning author with twenty-five years of experience as a science journalist and writer. Her work has appeared in the New York Times, Nature Medicine, and the Jerusalem Post. She has written two books: A Well-Informed Patient's Guide to Breast Surgery and In Search of the Lost Cord: Solving the Mystery of Spinal Cord Regeneration.
Praise For Immunity: How Elie Metchnikoff Changed the Course of Modern Medicine…
"A portrait that captures not only the man, but also the end-of-the-19th century dynamism that fostered revolutions in art, politics, and science." —Kirkus Reviews
"Elie Metchnikoff was one of the most remarkable scientists of the turn of the twentieth century, . . . an immunologist ahead of his time, and also, in some ways, very much behind it. In Luba Vikhanski he has finally found a biographer who brings his gripping story to life in sprightly, engaged prose for the English-reading world." —Michael D. Gordin, Rosengarten Professor of Modern and Contemporary History, Princeton University
"A sensitive, nuanced portrait . . . and at times reads like a thriller." —Siamon Gordon, Emeritus Professor of Cellular Pathology, University of Oxford, and a Fellow of the Royal Society
"[an] outstanding, enlightening and delightful biography." —The Jerusalem Post
"This book deftly unspools and celebrates both the profession and the personal life of a turn-of-the-century giant." —Library Journal
"The story of a revolutionary era in medicine." —The Washington Post
"Having gleaned a personal perspective from letters, the author [Vikhanski] builds Metchnikoff into a magnetic character and sets him in a vibrant scientific and historical scene. Immunity is smoothly written, with charming turns of phrase that engage and demand attention." —Foreword Reviews 
"Vikhanski's meticulous account of this almost-forgotten scientist reminds us of just how important a role obsession and stubbornness play in research." —Booklist
or
Not Currently Available for Direct Purchase