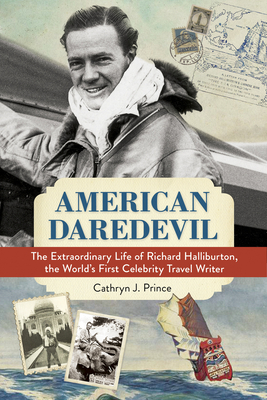 American Daredevil
The Extraordinary Life of Richard Halliburton, the World's First Celebrity Travel Writer
Hardcover

* Individual store prices may vary.
Description
With a polished walking stick and neatly pressed trousers, Richard Halliburton served as an intrepid globetrotting guide for millions of Americans in the 1920s and '30s. Readers waited with bated breath for each new article and book he wrote. During his career, Halliburton climbed the Matterhorn, nearly fell out of his plane while shooting the first aerial photographs of Mount Everest, and became the first person to swim the full length of the Panama Canal.

With his matinee idol looks, the Tennessee native was a media darling in an era of optimism and increased social openness. But as the Great Depression and looming war pushed America toward social conservatism, Halliburton more actively worked to hide his homosexuality, burnishing his image as a masculine trailblazer. No middle ground existed regarding Halliburton—he was either adored or abhorred. Ernest Hemingway and F. Scott Fitzgerald called the Princeton graduate a poseur, a symbol of nouveau riche depravity. But most found his daredevil persona irresistible.

As chronicled in American Daredevil, Halliburton harnessed the media of his day to gain and maintain a widespread following long before our age of the twenty-four-hour news cycle, and thus became the first adventure journalist. And during the darkest hours of the Great Depression, Halliburton did something remarkable: he inspired generations of authors, journalists, and everyday people who dreamed of fame and glory to explore the world.

Praise For American Daredevil: The Extraordinary Life of Richard Halliburton, the World's First Celebrity Travel Writer…
"A rollicking tale of the incredible saga of a man constantly searching for the next exploit and sharing them in his writings." —Kirkus Reviews

"Cathryn Prince has written a compelling, well researched account of an inspiring and largely overlooked life, a man who traversed the globe and wrote about all he saw with romance and flair. A sweet look back at a more innocent time, when the world called out to curious young men like Richard Halliburton." —Neal Thompson, author of A Curious Man: The Strange & Brilliant Life of Robert "Believe It or Not!" Ripley

"Between the Roaring Twenties and the Great Depression, the writer-adventurer Richard Halliburton taught America to love the world without revealing his own heart. Prince's sensitive and unstinting portrait bottles his lightning and captures his tragedy." —Christopher Heaney, author of Cradle of Gold: The Story of Hiram Bingham, a Real-Life Indiana Jones, and the Search for Machu Picchu

"This is a good old-fashioned biography of an almost forgotten celebrity." —Booklist

"Journalist and author Cathryn J. Prince has done a very thorough job researching 'Romantic Richard' Halliburton, the story of his personal struggles, and why he chose to escape a traditional career and lifestyle. She tells his story in compelling details and, like its subject, it is never boring." —New York Journal of Books

"Cathryn Prince's thorough research and eye for detail have made Richard Halliburton believable—and brought a fascinating, high-flying adventurer back to earth." —Chicago Review of Books
Chicago Review Press, 9781613731598, 336pp.
Publication Date: June 1, 2016
About the Author
Cathryn J. Prince is the author of Death in the Baltic, Burn the Town and Sack the Banks, and A Professor, a President, and a Meteor. She has worked as a correspondent for the Christian Science Monitor in Switzerland and in New York, where she reported on the United Nations, and is a frequent contributor to the Times of Israel.

or
Not Currently Available for Direct Purchase