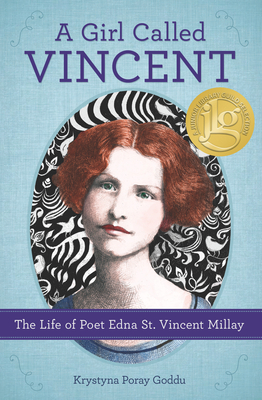 A Girl Called Vincent (Hardcover)
The Life of Poet Edna St. Vincent Millay
Chicago Review Press, 9781613731727, 224pp.
Publication Date: April 1, 2016
Other Editions of This Title:
Paperback (4/17/2018)
* Individual store prices may vary.
Description
There was never anything calm about Vincent. Her sisters used to say that she had a bee chasing her. Edna St. Vincent Millay (1892–1950), known as Vincent, was an acclaimed American poet who came to embody the modern, liberated woman of the Jazz Age. From the fiery energy of her youth to the excitement and acclaim of her early adulthood in New York and Paris, to the demands of living in the public eye, Vincent's life was characterized by creativity, hard work, and passion. A Girl Called Vincent traces her incredible journey from a unique and talented girl to an international celebrity and Pulitzer Prize–winning poet.

            Raised in poverty in rural Maine, where she was often the sole caretaker of her two younger sisters, the rebellious, creative, red-haired Vincent always found time for writing, acting, singing, and playing piano. She became a sensation in young adulthood, bewitching audiences with her words, voice, and luminous appearance. She mixed with the literary figures of her time and broke many hearts. Her volumes of poetry were enormous bestsellers and audiences nationwide went wild when she recited her works onstage. In addition to poetry, Vincent's body of work includes plays, translations, and an opera, and ranges from love sonnets to antiwar propaganda.

Packed with photos, poems, letter and diary excerpts, a time line, and bibliographic notes, A Girl Called Vincent is an eye-opening and valuable addition to any young reader's or aspiring writer's bookshelf.
About the Author
Krystyna Poray Goddu holds a degree in comparative literature from Brown University. Author of Dollmakers and Their Stories: Women Who Changed the World of Play, she has contributed to American Girl magazine, the New York Times Book Review, and the Riverbank Review of Books for Young Readers and is a regular reviewer of children's books and writer for Publishers Weekly. She has worked at Woman's Day magazine and was founding editor of Dolls magazine and cofounder of Reverie Publishing Company, which publishes books on dolls and toys for collectors and children. She has also worked in school libraries and taught writing to middle-school students in independent schools in New York City.
Praise For A Girl Called Vincent: The Life of Poet Edna St. Vincent Millay…
"This vibrant biography of the poet who famously burned her candles at both ends should be at the top of every reading list. Krystyna Poray Goddu intelligently explores Edna St. Vincent Millay's life and great talent with many fresh insights and tells her story with grace, clarity, and sympathy." —Emily Arnold McCully, Caldecott Award–winning author and illustrator, Mirette on the High Wire
"Beautifully written, lovingly researched, and amply illustrated, A Girl Called Vincent will introduce a whole new generation to the delights of this singular American poet. Krystyna Poray Goddu's passion for her illustrious subject animates and enlivens every single page." —Yona Zeldis McDonough, author of Little Author in the Big Woods: A Biography of Laura Ingalls Wilder
"In this beautifully written, well-researched biography, Krystyna Poray Goddu illuminates the joys and challenges in Millay's life, tracing her development from a restless, young woman in rural Maine to one of America's bestselling poets and a spokesperson for her generation's claim to personal freedom.  Along the way, Goddu shares the often overlooked personal details that both shaped Millay's world view and served as inspiration for her work." —Holly Peppe, literary executor, Edna St. Vincent Millay; editor, Millay's Early Poems; coeditor, Collected Sonnets and Collected Poems
"Goddu's well-researched account produces an illuminating snapshot of the uphill battle female writers faced trying to earn a living in the first half of the 20th century. A revealing glimpse of a gifted poet whose impassioned works and acts are sure to capture the imaginations of young readers." —Kirkus Reviews
"[T]his is a great option to recommend to aspiring poets, writers, and feminists, as well as those who enjoy historical nonfiction. A strong addition to any collection, especially those seeking out new titles for Women's History Month." —School Library Journal
"To see Vincent through Goddu's eyes is to see a most extraordinary story—one that, like Millay, belongs in any nonfiction collection." —Booklist, starred review
"While Goddu clearly likes her subject, she doesn't avoid Millay's rough edges, her bouts of depression or adult struggles with drug and alcohol abuse. However, parents need not be concerned. Goddu presents an honest portrait, appropriately tempered for a young audience." —DownEast: The Magazine of Maine
"A book that will engage both students and educators. As all good stories do, 'A Girl Called Vincent' creates opportunities for readers to experience a different time and place through someone else's life." —Portland Press Herald
"An obvious labor of love, Goddu's biography of irrepressible poet Edna St. Vincent Millay (1892–1950) strikes a fine balance between academic presentation and devoted characterization of a life well lived." —Publishers Weekly 
or
Not Currently Available for Direct Purchase