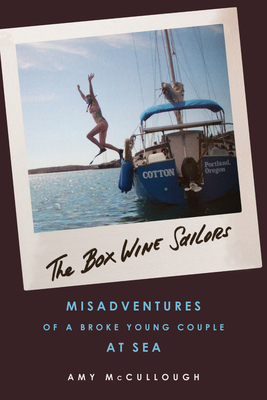 The Box Wine Sailors
Misadventures of a Broke Young Couple at Sea
Paperback

* Individual store prices may vary.
Description
Amy and Jimmie were not sailors. Their experience included reading a few books, watching a couple of instructional videos, and sailing once a week for a year. They were land-lubberly, middle-class twentysomethings, audacious and in love. All they wanted was to be together and do something extraordinary. They quit their jobs, bought a boat that was categorically considered "too small" for ocean sailing, and left Portland, Oregon for the Sea of Cortez.

The Box Wine Sailors tells the true story of a couple's ramshackle trip down the coast, with all the exulting highs and terrifying lows of sailing a small boat on the Pacific. From nearly being rammed by a pair of whales on Thanksgiving morning and the terrifying experience of rounding Punta Gorda—hanging on to the mast for dear life and looking about at what seemed like the apocalypse—to having their tiller snap off while accidentally surfing coastal breakers and finding ultimate joy in a $5 Little Caesar's pizza. It also tells the story of two very normal people doing what most people only dream of, settling the argument that if you want something bad enough you can make it happen.
Praise For The Box Wine Sailors: Misadventures of a Broke Young Couple at Sea…
"Highly romantic on every level in a very hip and modern way, this is such a well-written, great adventure and love story! I would recommend it to any two people taking on something that feels too big to handle as proof of what is possible, given the will to try and the determination to succeed. Bravo!" —Tania Aebi, author of Maiden Voyage


"Love, courage and a generous helping of lunacy are ingredients for the best kind of adventure stories. If you're looking for the inspiration to throw it all in and set sail, this is it." —Torre DeRoche, author of Love with a Chance of Drowning

"McCullough is an uninhibited and engaging storyteller and the book fairly sizzles with joie de vivre. I wish all 20-somethings did something like this—the world would be filled with better-adjusted human beings." —SAIL magazine

"The Box Wine Sailors is not about adjusting sails to match the wind. It is about adjusting lives to match a dream. Wisely or foolishly--you get to decide--Amy and her partner seek adventure, freedom, and togetherness aboard a small sailboat on a big ocean. What makes this tale unique is that its narrator is twenty something. For millennials focused on "success" since pre-kindergarten, such abandon is rare, which is too bad because experiencing life beyond the comfort zone rewards one with an unimaginable high. In Amy's words, 'you don't get to feel that--until you've actually done it. All the way.' If you imagine yourself living life on the edge but consider such an adventure beyond your reach, read this book."—Don Casey, author of This Old Boat

Academy Chicago Publishers, 9781613733486, 272pp.
Publication Date: November 1, 2015
About the Author
Amy McCullough is the former music editor of Willamette Week, Portland, Oregon's Pulitzer Prize-winning alt-weekly newspaper, and has also written for Eugene Weekly and SAIL Magazine.
or
Not Currently Available for Direct Purchase