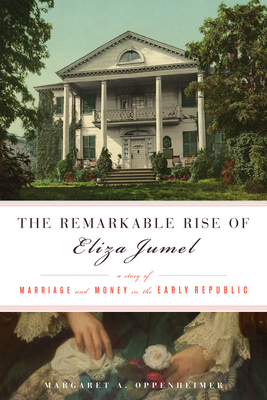 The Remarkable Rise of Eliza Jumel (Hardcover)
A Story of Marriage and Money in the Early Republic
Chicago Review Press, 9781613733806, 352pp.
Publication Date: November 1, 2015
* Individual store prices may vary.
Description
Born Betsy Bowen into grinding poverty, the woman who reinvented herself as Eliza Jumel was raised in a brothel, indentured as a servant, and confined to a workhouse when her mother was in jail. Seizing opportunities and readjusting facts to achieve the security and status she so desperately craved, she obtained a fortune from her first husband, a French merchant, and nearly lost it to her second, the notorious vice president Aaron Burr. Divorcing Burr promptly amid lurid charges of adultery, she lived on triumphantly to the age of ninety, astutely managing her property and public persona.

By the end of her life, "Madame Jumel" was one of New York's richest women, with servants of her own, an art collection, an elegant mansion, a summer home in Saratoga Springs, and several hundred acres of land. After her death, a titanic battle over her estate went all the way to the United States Supreme Court . . . twice.

As the feud over her fortune riveted the nation, family members told of a woman who earned the gratitude of Napoleon I and shone at the courts of Louis XVIII and Charles X. Their opponents painted a different picture, of a prostitute who bore George Washington's illegitimate son, a wife who defrauded her husband and perhaps even plotted his death. Now Eliza Jumel's real story—so unique that it surpasses any invention—has finally been told.
About the Author
Margaret A. Oppenheimer holds a PhD in art history from New York University. She is the author of The French Portrait: Revolution to Restoration and articles in Apollo, the Metropolitan Museum Journal, The Magazine Antiques, and other publications. She volunteers as a docent at New York's Morris-Jumel Mansion, Eliza Jumel's former home.
Praise For The Remarkable Rise of Eliza Jumel: A Story of Marriage and Money in the Early Republic…
"Before Horatio Alger, there was Eliza Jumel. Her story has long been mired in mystery, scandal, innuendo, and outright fabrication. No more. Margaret Oppenheimer's deeply researched, trans-Atlantic biography moves Eliza Jumel from the shadowy margins to the central events of turn-of-the-nineteenth-century France and the United States. The Remarkable Rise of Eliza Jumel is just that—a remarkable work of history." —Timothy J. Gilfoyle, professor of history, Loyola University Chicago, associate editor, Journal of Urban History

"An engaging and thoroughly researched account of the spectacular rags-to-riches rise of Eliza Jumel." —Meryl Gordon, author of Mrs. Astor Regrets and The Phantom of Fifth Avenue

"A true story that needs no invention, The Remarkable Rise of Eliza Jumel is a vivid narrative of the sacrifices that a woman makes as she acquires and holds onto a fortune in early America."  —Bill Dedman, coauthor of the New York Times bestselling Empty Mansions
"Oppenheimer… vibrantly recreates Eliza Jumel's rise from poverty to affluence, skillfully peeling away generations of rumors about this intelligent and resourceful woman." —Publishers Weekly
"[I]deal for researchers, history fans, or general readers interested in women's history, gender roles, or 19th-century New York society." —Library Journal
"Readers who thrive on stories about strong, independent women will find a kindred soul in Eliza Jumel." —The New York Journal of Books
"an amazing true-life story," "[a] meticulous and sprightly history," and "ripe for a cable mini-series." —Liz Smith, New York Social Diary
"Presented in novel-like fashion, the book will appeal to all audiences.  The narrative is punctuated with valuable information about cultural, economic, and political life in the US and France during that time, making it a useful primer on the era." Choice
or
Not Currently Available for Direct Purchase