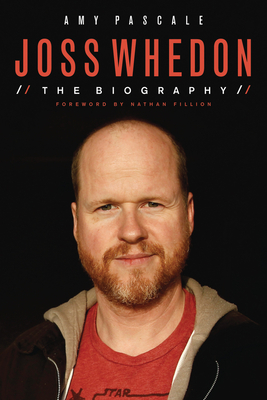 Joss Whedon
The Biography
Paperback

* Individual store prices may vary.
Other Editions of This Title:
Hardcover (7/24/2014)
Hardcover (8/1/2014)
Description
Going from the 4 million US viewers who watched Buffy the Vampire Slayer to a worldwide box office of $1.5 billion for The Avengers is quite a leap. Yet the creator of them both, Joss Whedon, told as personal a story with a cast of A-list movie stars and complicated CGI effects as he had with a modestly budgeted teen fantasy series on an upstart netlet.
 
Whedon deals in classic themes of love, death, and redemption with a feminist perspective that his mother, a beloved teacher and activist, imparted to him. Although he comes from a family of television writers, he was determined to follow his own path from a young age. This definitive biography shows how his years at an elite English public school led to his early successes, which often turned into frustration in both television (Roseanne) and film (Buffy the Vampire Slayer; Alien: Resurrection). But when he resurrected his girl hero on a young network, the results enabled him to direct, write, or produce three more television series, several movies, Marvel comic books, and an innovative web series, culminating in the blockbuster The Avengers. Then Much Ado About Nothing, a personal project shot in his home and cast with friends, allowed him to step out of Marvel's shadow.
 
Amy Pascale has based this revealing biography on extensive original interviews with Whedon's family, friends, collaborators, and stars—as well as with the man himself. They've shared candid, behind-the-scenes accounts of his work with Pixar, his filmmaking adventures, and the making of his groundbreaking series Buffy, Angel, Firefly, Dollhouse, and Agents of S.H.I.E.L.D. 

Praise For Joss Whedon: The Biography…
"Amy Pascale delves deep behind the scenes of Joss Whedon's myriad film and television projects, covering Avengers, vampire slayers, and everything in between.  This thorough and engaging biography is a must-read for everyone who loves Whedon's work, from the casual fan to the most hardcore Browncoat." —Tim Hanley, author of Wonder Woman Unbound: The Curious History of the World's Most Famous Heroine
"If you think you know everything about Joss, you haven't read this thoroughly entertaining and well-researched treasure trove." —Josh Horowitz, MTV News
"Now that I've read this and feel like I know Joss as a person rather than merely a hit-making, critically adored peer, my schadenfreude has been reduced to completely manageable levels." —Rob Thomas, creator of
Veronica Mars
"Like a series of great tales told during a boozy night of friends reminiscing, Pascale's biography of Joss Whedon does what the great artistic biographies do—it makes you want to go back and re-experience his work." —Patton Oswalt
Chicago Review Press, 9781613734179, 448pp.
Publication Date: September 1, 2015
About the Author
A former director for MTV, Amy Pascale lives in New York City. Nathan Fillion starred in the Joss Whedon vehicles Firefly, Serenity, Dr. Horrible's Sing-Along Blog, and Much Ado About Nothing. He plays Richard Castle on Castle.