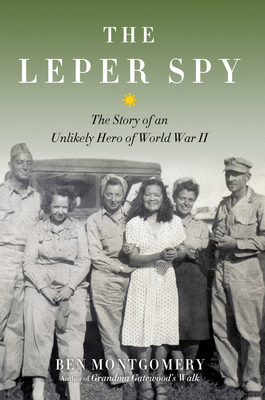 The Leper Spy (Hardcover)
The Story of an Unlikely Hero of World War II
Chicago Review Press, 9781613734308, 288pp.
Publication Date: October 1, 2016
Other Editions of This Title:
MP3 CD (10/1/2016)
Compact Disc (10/1/2016)
* Individual store prices may vary.
Description
The GIs called her Joey. Hundreds owed their lives to the tiny Filipina woman who was one of the top spies for the Allies during World War II, stashing explosives, tracking Japanese troop movements, and smuggling maps of fortifications across enemy lines for Gen. Douglas MacArthur. As the Battle of Manila raged, young Josefina Guerrero walked through gunfire to bandage wounds and close the eyes of the dead. Her valor earned her the Medal of Freedom, but the thing that made her an effective spy was a disease that was destroying her.

Guerrero suffered from leprosy, which so horrified the Japanese they refused to search her. After the war, army chaplains found her in a nightmarish leper colony and campaigned for the US government to do something it had never done: welcome a foreigner with leprosy. The fight brought her celebrity, which she used on radio and television to speak for other sufferers. However, the notoriety haunted her after the disease was arrested, and she had to find a way to disappear.

About the Author
Ben Montgomery is the author of the New York Times bestseller Grandma Gatewood's Walk, which won the 2014 National Outdoor Book Award for History/Biography. An award-winning staff writer at the Tampa Bay Times, Montgomery was a finalist for a Pulitzer Prize in 2010. 
Praise For The Leper Spy: The Story of an Unlikely Hero of World War II…
"Some of the most poignant moments of war lie not in the savage atrocities but the quiet moments of valor risked by the smallest unsung heroes. With the eye of a historian and the soul of a storyteller, Ben Montgomery paints a tender portrait of an unlikely paladin, who turned the curse of her cruel disease into a shield and a sword. We can all learn from this."—Kim Cross, New York Times best-selling author of What Stands in a Storm
 


"Written with grace and elegance, The Leper Spy tells a surprising—and affecting—espionage story." —Howard Blum, the author of The Last Goodnight: A World War II Story of Espionage, Adventure, and Betrayal
"I love this story. I love it when a gap in history is filled in with such a riveting tale, and Montgomery does it here with deep reporting, and fluid, beautiful writing." —Alex Tizon, Pulitzer Prize-winning journalist and author of Big Little Man
"Once again, Ben Montgomery has unearthed from history a gem of a forgotten story—about war and love, patriotism and sacrifice—and invites us all to gather round for his thrilling tale of an amazing woman." —Thomas Mullen, author of The Last Town on Earth
"Montgomery offers a fascinating tribute to the slight Filipina who courageously saved thousands and chose anonymity." —Booklist
"The woman's remarkable story is related with you-are-there lucidity by Ben Montgomery." —Washington Times