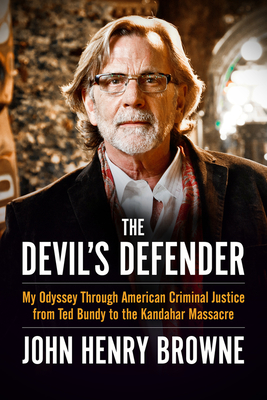 The Devil's Defender (Hardcover)
My Odyssey Through American Criminal Justice from Ted Bundy to the Kandahar Massacre
Chicago Review Press, 9781613734872, 256pp.
Publication Date: August 1, 2016
Other Editions of This Title:
Paperback (4/1/2018)
Compact Disc (8/1/2016)
Compact Disc (8/1/2016)
MP3 CD (8/1/2016)
* Individual store prices may vary.
Description
In the tradition of bestselling legal memoirs from Johnnie Cochran, F. Lee Bailey, Gerry Spence, and Alan Dershowitz, John Henry Browne's memoir, The Devil's Defender, recounts his tortuous education in what it means to be an advocate—and a human being. 

For the last four decades, the Seattle-based criminal defense lawyer has defended the indefensible. From Facebook folk hero "the Barefoot Bandit" Colton Harris-Moore, to Benjamin Ng of the Wah Mee massacre, to Kandahar massacre culprit Sgt. Robert Bales, Brown has stood at the forefront of our national debate over the death penalty, putting on trail our most base and violent instincts—and the institutional deficiencies that let our most vulnerable fall through the cracks. His unceasing advocacy and the daring to take on some of the most unwinnable cases—and nearly win them all—has led 48 Hours' Peter Van Sant to call him "the most famous lawyer in America."

But although the Browne that America has come to know cuts a dashing and confident figure, he has forever been haunted by his job as counsel to Ted Bundy, the most famous serial killer in American history. A formerly drug- and alcohol-addicted (yet wildly successful) defense attorney who could never let go of the case that started it all, Browne here traces the roots of his discontent as well as his dedication, asking himself the question others have asked him all along: Does defending evil make you evil, too?
About the Author
John Henry Browne, one of America's leading criminal defense attorneys, has practiced law out of his Seattle offices for nearly forty years. His life and work have been profiled in the New York Times, Wall Street Journal, Los Angeles Times, and elsewhere.
 

Praise For The Devil's Defender: My Odyssey Through American Criminal Justice from Ted Bundy to the Kandahar Massacre…
"John is not only brilliant and thoughtful, he's also a wonderfully entertaining writer. He's a fine lawyer too, a storyteller with an artist's sense of the drama in the pursuit of justice." —Dustin Lance Black, Academy Award–winning screenwriter
"Even though I usually side with the prosecution's case, I've been impressed with John Henry's brilliance, charisma, and willingness to take on seemingly impossible challenges. His clients include some of the most publicized names in criminal law. What many people don't know is Browne, the man. This memoir is beautifully written, unveiling his struggles with conscience, his years as a rock musician, and his interactions with Ted Bundy. Secrets about Bundy appear here for the first time—things that even I didn't know about. A compelling tour de force!" —Ann Rule, NewYork Times bestselling author
"John Henry Browne's career has included some of the most prominent and compelling criminal cases of our time. In this engaging page-turner he has done the public a real service in providing important behind-the-scenes details only known to him, along with his unique, incisive perspectives. Rare for books of this type, he is unflinching in his take on his (numerous) legal adversaries and equally on himself." —Richard S. Adler, M.D., forensic and clinical psychiatrist
 
"John Henry Browne writes like a force of nature because he is one. The charismatic, polarizing rock-star defense lawyer has written an edge-of-your-seat account of his wonderfully strange life and exploits in and out of the courtroom, from babysitting Jimi Hendrix to defending the indefensible, including the likes of notorious serial killer Ted Bundy, Staff Sgt. Robert Bales (the soldier accused of murdering sixteen Afghan men, women and children in the so-called Kandahar Massacre), and Colton Harris-Moore (the "Barefoot Bandit"), among many, many others. What is most remarkable about The Devil's Defender is not just that it reads like the thriller it actually is but also that what emerges after the smoke clears is a portrait of a genuine American hero, who believes above all else that everyone—no matter how apparently reprehensible—deserves the very best defense our legal system can offer." —Matthew Carnahan, creator/showrunner, Showtime's House of Lies
"A suprisingly personal look at the man behind the legal briefs." —Seattle Weekly
or
Not Currently Available for Direct Purchase