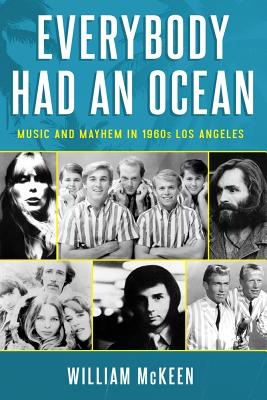 Everybody Had an Ocean
Music and Mayhem in 1960s Los Angeles
Hardcover

* Individual store prices may vary.
Other Editions of This Title:
Digital Audiobook (1/24/2022)
Paperback (9/7/2021)
Description
Los Angeles in the 1960s gave the world some of the greatest music in rock 'n' roll history: "California Dreamin'" by the Mamas and the Papas, "Mr. Tambourine Man" by the Byrds, and "Good Vibrations" by the Beach Boys, a song that magnificently summarized the joy and beauty of the era in three and a half minutes.

But there was a dark flip side to the fun fun fun of the music, a nexus between naive young musicians and the hangers-on who exploited the decade's peace, love, and flowers ethos, all fueled by sex, drugs, and overnight success. One surf music superstar unwittingly subsidized the kidnapping of Frank Sinatra Jr. The transplanted Texas singer Bobby Fuller might have been murdered by the Mob in what is still an unsolved case. And after hearing Charlie Manson sing, Neil Young recommended him to the president of Warner Bros. Records. Manson's ultimate rejection by the music industry likely led to the infamous murders that shocked a nation.

Everybody Had an Ocean chronicles the migration of the rock 'n' roll business to Southern California and how the artists flourished there. The cast of characters is astonishing—Brian and Dennis Wilson of the Beach Boys, Jan and Dean, eccentric producer Phil Spector, Cass Elliot, Sam Cooke, Ike and Tina Turner, Joni Mitchell, and scores of others—and their stories form a modern epic of the battles between innocence and cynicism, joy and terror. You'll never hear that beautiful music in quite the same way.

Praise For Everybody Had an Ocean: Music and Mayhem in 1960s Los Angeles…
"William McKeen's Everybody Had an Ocean brilliantly illuminates the day-glo rise of Los Angeles as a counterculture Mecca. The back pages of high-octane rock 'n' roll history are ably explored by McKeen. And once again, the Beach Boys reign supreme." —Douglas Brinkley, author of Cronkite


"People say the sixties died at Altamont, but William McKeen makes a compelling case that it was really Charlie Manson who brought down the flowered curtain. Everybody Had an Ocean sets a generation's soundtrack to the improbable true tale of a scrawny career thief who befriended a Beach Boy, almost got himself a record deal, and then unleashed a spacey band of murderers on Los Angeles. Few novelists could dream up such a plot." —Carl Hiaasen, author of Razor Girl and Tourist Season


"Everybody Had an Ocean is a fascinating, hypnotic look at the underside of the California dream. With smooth prose and keen reporting, William McKeen peels back the facade of peace and love and thoroughly examines the dark heart behind a generation of music. This is binge reading at its best." —Michael Connelly, New York Times bestselling author of The Wrong Side of Goodbye and The Crossing


"A widescreen, meticulously researched account of how Los Angeles—the seedbed of surf pop and folk rock—became the epicenter of American music in the 1960s. McKeen follows the thread from the Beach Boys' sunny innocence to Manson's noir horrors—via Phil Spector, Jim Morrison, and a supporting cast of hundreds—and brings the music of the City of Angels brilliantly to life." —Barney Hoskyns, author of Waiting for the Sun and Hotel California


"A good rock book is all about balance, and McKeen — the chair of journalism at Boston University — effectively and concisely describes… the rapidly evolving landscape of rock music in the '60s." —The Current


"William McKeen's Everybody Had an Ocean offers a detailed snapshot of the creative fertility, debauchery, and importance of a signal moment in pop music history. Highly recommended!" —Charles L. Granata, author of Wouldn't It Be Nice


"This is the best kind of nonfiction—a real page-turner."—El Segundo Herald

"Excellent social history...an indispensable account of a time of beauty and terror." —Kirkus Reviews, starred review

"McKeen manages to hint at some larger forces, both dark and bright, that constellated this particular group of artists underneath the palm trees of La-La Land." —Library Journal

"Using a synthesis of memoirs and biographies, McKeen creates a sprawling, entertaining, and sometime lurid, narrative about artists who, bursting with creative energy, converged in L.A." —Booklist
Chicago Review Press, 9781613734919, 432pp.
Publication Date: April 1, 2017
About the Author
William McKeen is an author and editor whose books include Mile Marker Zero, Highway 61, and Rock and Roll Is Here to Stay. He is chair of the Department of Journalism at Boston University.

or
Not Currently Available for Direct Purchase