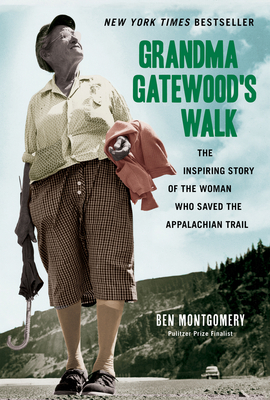 Grandma Gatewood's Walk (Paperback)
The Inspiring Story of the Woman Who Saved the Appalachian Trail
Chicago Review Press, 9781613734995, 288pp.
Publication Date: April 1, 2016
* Individual store prices may vary.
Description
Emma Gatewood told her family she was going on a walk and left her small Ohio hometown with a change of clothes and less than two hundred dollars. The next anybody heard from her, this genteel, farm-reared, sixty-seven-year-old great-grandmother had walked 800 miles along the 2,050-mile Appalachian Trail. By September 1955 she stood atop Maine's Mount Katahdin, sang "America, the Beautiful," and proclaimed, "I said I'll do it, and I've done it."
Driven by a painful marriage, Grandma Gatewood not only hiked the trail alone, she was the first person--man or woman--to walk it twice and three times. At age seventy-one, she hiked the 2,000-mile Oregon Trail. Gatewood became a hiking celebrity, and appeared on TV with Groucho Marx and Art Linkletter. The public attention she brought to the trail was unprecedented. Her vocal criticism of the lousy, difficult stretches led to bolstered maintenance, and very likely saved the trail from extinction.
Author Ben Montgomery interviewed surviving family members and hikers Gatewood met along the trail, unearthed historic newspaper and magazine articles, and was given full access to Gatewood's own diaries, trail journals, and correspondence. Grandma Gatewood's Walk shines a fresh light on one of America's most celebrated hikers.
About the Author
Ben Montgomery is a staff writer at the Tampa Bay Times and cofounder of the Auburn Chautauqua, a Southern writers' collective. He was a finalist for the Pulitzer Prize in 2010 and has won many other national writing awards. He lives in Florida.
Why do you really think Emma Gatewood did all that walking?
How could she abandon her kids when she left for California?
Why do you think Emma Gatewood didn't want to tell anyone about her failed first attempt at a thru-hike of the Appalachian Trail in 1954?
She told many newspaper reporters she was a widow when her husband was alive and well in Ohio. What social pressures were at play in 1955 that would cause a morally-centered teetotaler to repeat that lie in the press?
Why do you think Emma Gatewood took up long-distance walking late in life?
Are there social ills tied to our dependence on automobiles and our general lack of walking?
Emma Gatewood unknowingly pioneered the ultra-lite hiking movement, bringing along very little in the way of supplies for a 2,000-mile journey. If you had to pack for a long hike like that, what items could you not do without?
Do you think the preservation of the Appalachian Trail is important? Why?