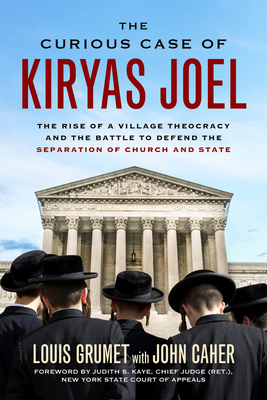 The Curious Case of Kiryas Joel
The Rise of a Village Theocracy and the Battle to Defend the Separation of Church and State
Hardcover

* Individual store prices may vary.
Description
Twenty years ago, in the middle of the night and on the last day of the legislative session, the New York State Legislature created a publicly funded school district to cater to the interests of a religious sect called the Satmar, an insular group of Hasidic Jews that objects to, among other things, female school bus drivers. The rapidly growing sect had bought land in rural Upstate New York, populated it solely with members of its faction, and created a village called Kiryas Joel that exerted extraordinary political pressure over both political parties. Marking the first time in American history that a governmental unit was established for a religious group, the legislature's action prompted years of litigation that eventually went to the US Supreme Court.

As today's Supreme Court signals its willingness to view a religious viewpoint like any other speech and accord it equal protection, the 1994 case, Board of Education of Kiryas Joel Village School District v. Grumet, stands as the most important legal precedent in the fight to uphold the separation of church and state. In The Curious Case of Kiryas Joel, plaintiff Louis Grumet opens a window onto the Satmar Hasidic community, where language, customs, and dress have led to estrangement from and clashes with neighboring communities, and details the inside story of his fight for the First Amendment and against New York's most powerful politicians.

Informed by numerous interviews with key figures such as Governor George Pataki, media accounts, court transcripts, and more, The Curious Case of Kiryas Joel not only tantalizes with a peek at cynical power politics driven by votes and Supreme Court justice squabbling and negotiation; it also provides an important demonstration of how a small, insular, and politically savvy religious group can grasp legal and political power. This story—a blend of politics, religion, cultural clashes, and constitutional tension—is an object lesson in the ongoing debate over freedom of versus freedom from religion.
Praise For The Curious Case of Kiryas Joel: The Rise of a Village Theocracy and the Battle to Defend the Separation of Church and State…
"The Curious Case of Kiryas Joel highlights the First Amendment's two, mutually reinforcing, religion clauses—the Establishment Clause and the Free Exercise Clause—and demonstrates the importance of both preserving religious liberty as well as freedom of conscience and equality for all of us, believers and non-believers alike. Lou Grumet exhibited great courage when he stood up for principle by persistently fighting against the most powerful politicians in New York State and for the First Amendment, all the way to the US Supreme Court. This book tells a fascinating story about why this struggle was so important for not only all freedom-loving individuals, but also our public school system, which plays such a key role in our democracy." —Nadine Strossen, John Marshall Harlan II Professor of Law at New York Law School and former president of the American Civil Liberties Union

"The Curious Case of Kiryas Joel is a fascinating insider account of a small religious group—Satmar Hasidic Jews—that had established a self-governed village in upstate New York, violated the principle of church/state separation, and ended up losing a major case at the United States Supreme Court. Grumet and Caher are sensitive to the anti-Semitism that drove this group to insulate itself, but acutely aware of the danger to our Constitutional system their tactics generated—sometimes with the help of powerful political forces that should have known better." —Barry Lynn, executive director, Americans United for the Separation of Church and State


"In The Curious Case of Kiryas Joel, this extraordinarily interesting book by Lou Grumet and John Caher, we are given an insight, not only to the insular theocratic community of Kiryas Joel, but also to the judicial conundrum which it has presented to the high courts of New York State and the United States Supreme Court. We are also given a fascinating look at a politically powerful community in rural New York State populated by citizens of the Satmar Hasidic line where language, customs, and dress have led to a cultural estrangement from neighboring communities. Whether your passion is the First Amendment to the United States Constitution, the uniqueness of this Satmar Hasidic sect, or the power that can enable a community to work 'political magic,' I highly recommend your reading this book." —Sol Wachtler is a Distinguished Professor of Constitutional Law at Touro Law School, and a former Chief Judge of New York State

"Two hundred years after Jefferson and Madison engaged in an extraordinary debate over freedom OF religion vs. freedom FROM religion, The Curious Case of Kiryas Joel demonstrates how a small and insular religious group can grasp political power and perpetrate an outrageous end-run around the United States Constitution. This story - a blend of politics, religion, cultural clashes and constitutional tension - is an object lesson in the Establishment Clause at work." —Eliot Spitzer, former attorney general and governor of New York State.

"This is a rare and valuable history of one of the most important First Amendment decisions in recent history. Louis Grumet's engaging narrative takes readers behind the scenes to reveal the commitment, the tensions, the strategizing, and the judicial decision making that led to Supreme Court victory." —Tony Mauro, Supreme Court correspondent for the National Law Journal

"The story of this epic court battle will fascinate those interested in the legal system as well as those intrigued by Albany politics . . . a readable look at the nitty-gritty of New York's political machine." —Kirkus

"This is a stand-up-and-cheer kind of book." —Voice of Reason

"...a fascinating look at the separation of church and state." —JCC Association of North America


"fascinating insights into raw politics and constitutional law." —New York Times
Chicago Review Press, 9781613735008, 304pp.
Publication Date: April 1, 2016
About the Author
Louis Grumet is the former executive director of the New York State School Boards Association. He has previously held various positions including special assistant to then New York Secretary of State Mario Cuomo. John Caher, Senior Advisor for Strategic Communications with the New York State Unified Court System, is a former senior reporter with the New York Law Journal, State Editor of the Albany Times Union and the author or coauthor of five books including King of the Mountain and A Time for Reflection. Judith S. Kaye was the first woman to serve on New York's highest court, the state's chief judge for 15 years, and, at the time of her death in January 2016, of counsel to the Manhattan law firm of Skadden, Arps, Slate, Leagher and Flom
or
Not Currently Available for Direct Purchase