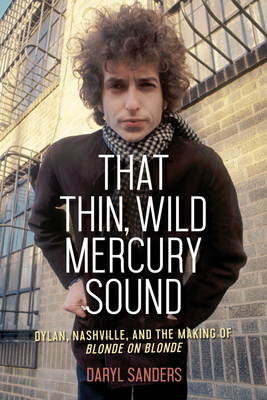 That Thin, Wild Mercury Sound
Dylan, Nashville, and the Making of Blonde on Blonde
Hardcover

* Individual store prices may vary.
Other Editions of This Title:
Digital Audiobook (10/1/2018)
Paperback (5/5/2020)
Compact Disc (10/2/2018)
MP3 CD (10/2/2018)
Description
That Thin, Wild Mercury Sound is the definitive treatment of Bob Dylan's magnum opus, Blonde on Blonde, not only providing the most extensive account of the sessions that produced the trailblazing album, but also setting the record straight on much of the misinformation that has surrounded the story of how the masterpiece came to be made. Including many new details and eyewitness accounts never before published, as well as keen insight into the Nashville cats who helped Dylan reach rare artistic heights, it explores the lasting impact of rock's first double album. Based on exhaustive research and in-depth interviews with the producer, the session musicians, studio personnel, management personnel, and others, Daryl Sanders chronicles the road that took Dylan from New York to Nashville in search of "that thin, wild mercury sound." As Dylan told Playboy in 1978, the closest he ever came to capturing that sound was during the Blonde on Blonde sessions, where the voice of a generation was backed by musicians of the highest order.
 
Praise For That Thin, Wild Mercury Sound: Dylan, Nashville, and the Making of Blonde on Blonde…
"The Dylan of
That Thin, Wild Mercury Sound
is not a freak or a throwback or a futurist, a prophet or a conjurer. He is, instead, a young adult becoming a musical professional, learning to collaborate with other musicians to realize his vision and how to stand his ground, too. Daryl Sanders is a diligent researcher and interviewer, driven by his own passion for Dylan's work and the then-ripening Nashville music world that was a near perfect setting for Dylan in 1966. More than the story of making a record album,
That Thin, Wild Mercury Sound
is about learning the rules of a complicated profession, and then smashing many of them. Several generations of rock singers, musicians, critics, historians, and fans will be grateful for this book. I know I am."
—Dave Marsh, author of Before I Get Old: The Story of the Who and Bruce Springsteen on Tour, 1968-2005
"That Thin, Wild Mercury Sound unravels the unlikely story of one of folk-rock's milepost albums with clarity and passion. With eyewitness accounts from the Nashville studio in which it was recorded, Sanders details Blonde on Blonde's genesis in greater depth than any previous author." —Richie Unterberger, author of Turn! Turn! Turn!: The 1960s Folk-Rock Revolution, Fleetwood Mac: The Complete Illustrated History, and Unknown Legends of Rock 'n' Roll
"Detailed and diligent, Daryl Sanders has played local detective, seemingly digging up every Nashville cat who was in Studio A when Dylan did it his way in 1966, changing country and rock for good." —Clinton Heylin, author of Trouble in Mind: Bob Dylan's Gospel Years and Bob Dylan: Behind the Shades Revisited
"Major victories like Blonde on Blonde often seem inevitable and easy. But Daryl Sanders has interviewed the survivors, noted the casualties, and pondered the battlefield strategies that conquered a country." —Daniel Wolff, author of Grown-Up Anger: The Connected Mysteries of Bob Dylan, Woody Guthrie, and the Calumet Massacre of 1913 and How Lincoln Learned to Read: Twelve Great Americans and the Education That Made Them
"For anyone interested in Dylan or the music of the 1960s. This title deserves the kind of attention received by Greil Marcus's
Like a Rolling Stone
." —
Library Journal
"
That Thin, Wild Mercury Sound 
is essential to Dylanologists, but it should also be useful to anyone curious about the way records get made, and, especially, to aspiring performing songwriters yearning to understand what it takes to transform great songs into legendary recordings."
---
Chapter 16
"If you're a Bob Dylan fan, you'll want a copy of That Thin, Wild Mercury Sound on your bookshelf." —
That Devil Music
"You want to know how masterpieces are born and then made, this is your kind of book." --
Aquarian
"There are a heck of a lot of Dylan-related books available, but none of them have dug this deep into the making of one of the Scribe's most creative, critically-acclaimed, and commercially-successful works." —That Devil Music  
Reconstructing events by pouring over decades of interviews, Sanders gives deep background for the 
Blonde on Blonde
 sessions, going in detail track by track. Dylanologists will be fascinated by the many pieces Sanders assembles.—
Shepherd Express
"Sanders's emphasis on the Nashville cats' ability to give the right sound to songs that Dylan was literally writing in the studio sheds new light on one of the 20th century's central cultural artifacts."—
Los Angeles Review of Books
"This fascinating, delicious book offers great insight into both the minutia of the recording process and Bob Dylan's idiosyncratic, eccentric methods. For songwriters, this book may offer unlimited inspiration. For Dylan fans, it is a must." - Corey Mesler on 
Memphis Flyer
Chicago Review Press, 9781613735473, 256pp.
Publication Date: October 2, 2018
About the Author
Daryl Sanders is a music journalist based in Nashville and is one of the foremost authorities on the city's extensive rock and soul history. Sanders has been the editor of a number of magazines covering "the other side of Music City" dating back to the late '70s, including Hank, the Metro, and Bone. He has also written for Performance, the Tennessean, Nashville Scene, City Paper (Nashville), the East Nashvillian, and the Nashville Musician. While his focus has been on music coming out of Nashville, in a career spanning nearly four decades Sanders also has interviewed many legendary rock, soul, and jazz artists not associated with the city, including Frank Zappa, Tom Petty, Joan Baez, Billy Gibbons, Robert Palmer, J. J. Cale, Al Kooper, the Neville Brothers, Betty Carter, Gary Burton, John Handy, Ian Astbury, and Cassandra Wilson.