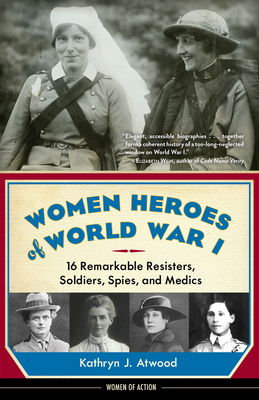 Women Heroes of World War I (Paperback)
16 Remarkable Resisters, Soldiers, Spies, and Medics (Women of Action)
Chicago Review Press, 9781613735954, 256pp.
Publication Date: May 1, 2016
Other Editions of This Title:
Hardcover (10/1/2016)
Paperback (8/1/2013)
Hardcover (6/1/2014)
Hardcover (3/1/2011)
* Individual store prices may vary.
Description
Women Heroes of World War I brings to life the brave exploits of 16 women from around the world who served their countries at a time when most women didn't even have the right to vote. Seventeen-year-old Frenchwoman Emilienne Moreau assisted the Allies as a guide and set up a first-aid post in her home. Russian peasant Maria Bochkareva joined the Imperial Russian Army, was twice wounded in battle and decorated for bravery, and created and led the all-women combat unit the Women's Battalion of Death. American journalist Madeleine Zabriskie Doty risked her life to travel twice to Germany during the war. Resented, watched, and pursued by spies, she was determined to report back the truth. These and other suspense-filled stories of daring girls and women from around the world are told through fast-paced narrative, dialogue, direct quotes, and document and diary excerpts. Historical background information opens each section, and each profile includes informative sidebars and "Learn More" lists of books and websites for further study, making this a fabulous resource for young history buffs or anyone who likes tales of bravery and courage. 

About the Author
Kathryn J. Atwood is the author of Women Heroes of World War II and editor of Code Name Pauline: Memoirs of a World War II Special Agent. Visit her online at www.kathrynatwood.com.

Praise For Women Heroes of World War I: 16 Remarkable Resisters, Soldiers, Spies, and Medics (Women of Action)…
"A fine survey of major events in WWI and a case study in the types of social changes that often occur because of war, this book is an ideal candidate for both research and recreational reading." —Booklist 
"The fast-paced narratives recounts the suspense-filled stories of these exceptional women." —The Nonfiction Detectives
"With interesting sidebars explaining important details in the stories, such as the use of poison gases in warfare or the popularity of the song 'Over There,' and with a generous use of photographs, Women Heroes of World War I is a good introduction to the war that started 100 years ago for readers of any age. It is also a helpful addition to the literature of women's studies. Look for it to be popular in school and public libraries." —RickLibrarian.com
"Kathryn Atwood's fascinating survey helps reset our perceptions of women in the Great War." —Peter Doyle, author of The First World War in 100 Objects
"Elegant, accessible biographies . . . together form a coherent history of a too-long-neglected window on World War I." —Elizabeth Wein, author of Code Name Verity