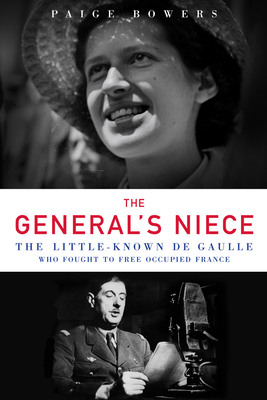 The General's Niece
The Little-Known de Gaulle Who Fought to Free Occupied France
Hardcover

* Individual store prices may vary.
Description
"My dear Uncle Charles," twenty-two-year-old Genevieve de Gaulle wrote on May 6, 1943. "Maybe you have already heard about the different events affecting the family." The general's brother Pierre had been taken by the Gestapo; his brother Xavier, Genevieve's father, had escaped to Switzerland. Genevieve asked her uncle where she could be most useful—France? England? A French territory? When no response came immediately, she decided to stay in France to help carry out his call to resist the Nazis.

Based on interviews with family members, former associates, prominent historians, and never-before-seen papers written by Genevieve de Gaulle, The General's Niece is the first English-language biography of Charles de Gaulle's niece, confidante, and daughter figure, Genevieve, to whom the legendary French general and president dedicated his war memoirs.

Journalist Paige Bowers leads readers through the remarkable life of this young woman who risked death to become one of the most devoted foot soldiers of the French resistance. Beginning with small acts of defiance such as tearing down swastikas and pro-Vichy posters, she eventually ferried arms and false letters of transit to fellow resistants and edited and distributed the nation's largest underground newspaper, until she was arrested and sent to the infamous Ravensbuck concentration camp. The General's Niece reveals the horrors the young de Gaulle witnessed and endured there that could have broken her spirit but instead inspired her many remaining years of activism on behalf of former prisoners and of France's neediest citizens.

Finally emerging from the shadow of her famous uncle, the life of this little-known de Gaulle adds a fascinating layer to the history of the second world war, including the French resistance, the horrors of and unshakeable bonds formed at Ravensbruck, and the issues facing postwar France and its leaders.
Praise For The General's Niece: The Little-Known de Gaulle Who Fought to Free Occupied France…
"Paige Bowers is an emerging talent in narrative nonfiction/history, an intellectually curious reporter who has the ability to tell rich, well-researched stories about some of history's most fascinating people and events."  —Aminda Marques Gonzalez, executive editor of Miami Herald, member of the Pulitzer Prize Board, and former Miami bureau chief of People

"This is such an inspiring story, written with clarity and conviction. Paige Bowers's excellent biography reveals Geneviève de Gaulle as one of the bravest and most dignified among young French resisters. At last, women who resisted the Nazis in France are being given the long-overdue recognition they deserve." —Anne Sebba, author of Les Parisiennes


"At once exhilarating and heartbreaking, captivating and horrifying, Bowers's account of Geneviève de Gaulle's journey from cautious defiance to full-blown resistance operative, through the horror of a concentration camp, to the even longer fight for a modern, egalitarian France is a timely, much-needed story of patriotism, courage, and the all-too-often ignored role of women in twentieth-century history." —Bill Lascher, author of Eve of a Hundred Midnights


"This stirring biography is a worthy epitaph for a woman who passionately believed that France should never forget its cherished values of justice and fraternity." —Ronald C. Rosbottom, author of When Paris Went Dark


"Paige Bowers delivers a story that is alternately pulse pounding and heart wrenching. With elegant style, Bowers gives Geneviève de Gaulle an independent identity, restoring her to her proper place in history." —Theresa Kaminski, author of Angels of the Underground


"A resistance fighter deported to Ravensbrück, Geneviève de Gaulle Anthonioz maintained her sanity through solidarity with her fellow female prisoners. After her return to France, she exorcised the psychological scars of her internment by dedicating herself to working with the unjustly marginalized. This book reminds one that a compassionate humanity is possible even in the face of unimaginable brutality. The General's Niece is essential reading." —Rosemary Sullivan, author of Stalin's Daughter


"An important and accessible addition to the always popular WWII history collection." —Booklist

Chicago Review Press, 9781613736098, 272pp.
Publication Date: June 1, 2017
About the Author
Paige Bowers is a news and features writer whose work has appeared in TIME, USA Today, the Wall Street Journal, the New York Times, People, the Atlanta Journal-Constitution, Atlanta Magazine, and others. A lifelong Francophile, she earned a master's degree in modern European history in 2012 and teaches continuing education classes at Louisiana State University about French history and culture. She lives in Baton Rouge, Louisiana.

1. The author chose two quotes in the epigraph of the book, one by the author Georges Bernanos and the other by former French premier Georges Clemenceau. How do they relate to the overall themes of the book and the life of Geneviève de Gaulle?
2. The author describes some of the choices French citizens faced during the occupation. If you had been living in that time, what do you think you would have done under the circumstances and why? How do you think our knowledge of the war's outcome influences your beliefs on how you would have acted?
3. The author notes that resistance took many forms, from small, passive acts to larger, more violent ones. What does resistance mean to you, and what sort of acts would you be willing to commit in order to fight for a cause in which you believed? In what ways is the resistance movement from World War II similar to the present-day resistance related to Donald Trump's presidency? In what ways is it different? How has the role of women in resistance evolved since the 1940s?
4. What was it about Geneviève de Gaulle's upbringing that gave her a unique perspective on the resurgent German threat, and then made her ideally suited for resistance activities during wartime? Do you believe that her journey toward resistance was inevitable because of her last name? If so, why? If not, what was it about her that led her to participate in the resistance? Based on what you've read, was there such a thing as a typical resister?
5. Do you believe Geneviève and her famous uncle, General de Gaulle, had a typical niece-uncle relationship? Why or why not? In what ways were Geneviève and her uncle Charles similar? In what ways were they different? How were their paths toward service to France complementary and how were they contradictory? What role do you think gender played?
6. Although women in wartime France did not yet have the same rights as French men, including the right to vote or open bank accounts, many felt it was their duty to resist the German occupation. Why do you think they were willing to fight to uphold the values of a republic that did not yet grant them equal rights?
7. In the second part of the book, the author draws from wide-ranging testimonies about the experiences of female prisoners at Ravensbrück. What are the challenges of using testimony from detainees who had survived this imprisonment? Do you think the author overcame these challenges, and if so, why? Furthermore, what are the challenges of trying to find humanity in some of the jailers and guards? Do you believe the author helped you have an understanding of why some of the Ravensbrück workers not only decided to work there but also committed some of the acts they did?
8. Based on the author's descriptions of life at Ravensbrück, do you think you could have survived a similar experience? If you had survived, what do you think would have helped get you through the experience, and how do you think it would have changed you after your release? What was most interesting or surprising to you about life in the camp?
9. After the war, how easy was it for women deportees to put their lives back together? What unique challenges did they face? In what ways did the group ADIR provide them the wide-ranging support and camaraderie they needed?
10. How did Geneviève de Gaulle's experiences at Ravensbrück shape her understanding of poverty and inspire her commitment to fighting it? In what ways was her devotion to ATD Quart Monde similar to her experience as a resister during World War II? How did her experience with ATD Quart Monde shape the way you currently view the challenges of fighting poverty?
or
Not Currently Available for Direct Purchase