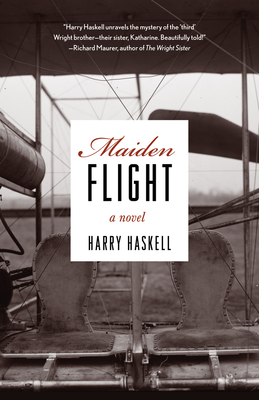 Maiden Flight
A Novel
Paperback

* Individual store prices may vary.
Description
Maiden Flight is the true-life story of the Wright sister who in 1926 left her world-famous and intensely possessive older brother to marry newspaper editor Harry Haskell, the man she loved, and suffered the unhappy consequences. An international celebrity in her own right, Katharine embodied the worldly, independent, and self-fulfilled New Woman of the early twentieth century. Yet she remained in many ways a Victorian. Torn between duty and love, she agonized for months before making her devastating break with Orville at age fifty-two.

Cast in the form of three interwoven first-person memoirs, Maiden Flight is imaginatively reconstructed from personal letters, newspaper reports, and other documents of the period—in particular, Katharine's lively and extraordinarily revealing love letters to Harry. In allowing Katharine to step outside of Wilbur and Orville's shadow, it sheds new light on the central role she played in their private lives, as well as on her often misunderstood contribution to their scientific work. Above all, Maiden Flight celebrates Katharine's abundant store of what she called "human nature"—her lively and perceptive outlook on life, her great capacity for both love and indignation, and her acute and sometimes crippling self-awareness.
Praise For Maiden Flight: A Novel…
"Masterfully drawing on intimate family letters, Haskell crosses the boundaries of fact and fiction to bring to life the distinctive voices of an era and illuminate one exceptional woman's struggle for independence and fulfillment." —Lauren Belfer, author of And After the Fire

"Combining family lore with meticulous historical and biographical research, Haskell has crafted a lively tale of the forgotten Wright sibling. While very much of its era, the recounting of family relationships, love coming late in life, and the excitement of new technology reverberates in our own time as well." —Tracy Barrett, author of Anna of Byzantium

"Harry Haskell unravels the mystery of the 'third' Wright brother—their sister, Katharine. Beautifully told!"—Richard Maurer, author of The Wright Sister
 

"Haskell imaginatively makes what was already an interesting triangle even more emotionally gripping. This slow burn of a story draws readers in more deeply with each page and makes Katharine truly the most intriguing Wright of them all." —Booklist
Academy Chicago Publishers, 9781613736371, 304pp.
Publication Date: October 1, 2016
About the Author
Harry Haskell is the grandson of Henry J. (Harry) Haskell, husband of Katharine Wright. He is the author of Boss-Busters and Sin Hounds: Kansas City and Its Star, The Early Music Revival: A History, and editor of The Attentive Listener: Three Centuries of Music Criticism. He lives in Guilford, Connecticut.
1. When Harry unexpectedly declares his love, Katharine is forced to choose between following her heart and staying home to look after her beloved brother Orville. Think back over the difficult either-or decisions you've made in your own life. What insight do they give you into Katharine's feelings and behavior? Does your experience make you more or less sympathetic with her predicament?
2. Independent by nature and upbringing, Katharine prided herself on being unconventional in her relations with men. She supported woman suffrage, equal pay for equal work, and other aims of the women's movement, even as she assumed the time-honored role of homemaker. In what ways did Katharine subscribe to traditional Victorian values, and in what ways did she represent an emerging feminist sensibility?
3. Katharine's mother died when she was fifteen and she grew up in an all-male household. Later she served with distinction as the lone woman on Oberlin College's board of trustees. Katharine observes that she has always lived with men and doesn't regard them as "such a wonderful treat." What strategies did she adopt to survive and excel in a man's world? Do you see a connection between her interest in aeronautics and the visibility of many early women aviators?
4. The relationship between Katharine and Orville was so close that casual observers often mistook them for man and wife. Do you think Orville was justified in feeling betrayed when his sister left him to marry Harry? Would you feel differently if Katharine had been open with Orville about her wedding plans from the beginning? And do you believe that he would have taken a different view of the situation if she had given him more of a chance to get used to the idea before she married?
5. Katharine and Harry both rebelled against their strict religious upbringings and the fundamentalism of their parents. Yet religious values continued to shape their attitudes and actions. When Stef, the dashing Arctic explorer, betrays Katharine and Orville's confidence, she observes that he would be "an entirely different kind of person if he had grown up in the wholesome surroundings Harry had as a young man." What is the foundation of Katharine's moral code, and how does it manifest itself in her relationships with Orville, Harry, and Stef?
or
Not Currently Available for Direct Purchase