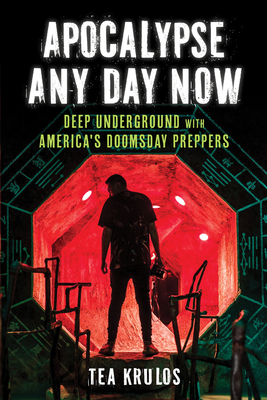 Apocalypse Any Day Now
Deep Underground with America's Doomsday Preppers
Paperback

* Individual store prices may vary.
Other Editions of This Title:
MP3 CD (4/2/2019)
Compact Disc (4/2/2019)
MP3 CD (4/2/2019)
Compact Disc (4/2/2019)
Compact Disc (4/2/2019)
Description
Everyone always seems to be talking about the end of the world—Y2K, the Mayan apocalypse, blood moon prophecies, nuclear war, killer robots, you name it. In Apocalypse Any Day Now, journalist Tea Krulos travels the country to try to puzzle out America's obsession with the end of days. Along the way he meets doomsday preppers—people who stockpile supplies and learn survival skills—as well as religious prognosticators and climate scientists. He camps out with the Zombie Squad (who use a zombie apocalypse as a survival metaphor); tours the Survival Condos, a luxurious bunker built in an old Atlas missile silo; and attends Wasteland Weekend, where people party like the world has already ended. Frightening and funny, the ideas Krulos explores range from ridiculously outlandish to alarmingly near and present dangers.
 
Praise For Apocalypse Any Day Now: Deep Underground with America's Doomsday Preppers…
"A wild journey that makes prepping for doomsday seem like a hell of a good time. Read this book if it's the last thing you do!" —Joey Green, author of Last-Minute Survival Secrets
 

"This exceptional collection gives you access to an exclusive group of individuals that are normally hidden in plain sight or sealed behind two eight-ton armored steel doors. Apocalypse Any Day Now questions your own survival readiness when the lights go out. Will you be an overly prepared prepper or a short-lived scavenger?" —John Austin, author of So Now You're a Zombie
 

"This chatty, fast-paced volume will entertain those who enjoy reading about unusual subcultures."--Publishers Weekly

"'Apocalypse Any Day Now' is a fun and funny, but never mocking, dive into the bizarre world of doomsday preppers." --Pop Mythology
Chicago Review Press, 9781613736418, 240pp.
Publication Date: April 2, 2019
About the Author
Tea Krulos is a freelance journalist and the author of Heroes in the Night and Monster Hunters. He lives in Milwaukee, Wisconsin.