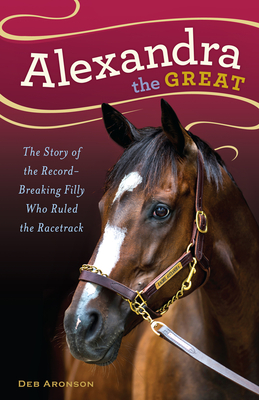 Alexandra the Great (Hardcover)
The Story of the Record-Breaking Filly Who Ruled the Racetrack
Chicago Review Press, 9781613736456, 176pp.
Publication Date: March 1, 2017
* Individual store prices may vary.
Description
When a little foal with a white upside-down exclamation point on her forehead was born one morning in Kentucky, the heart of America's horse racing region, problems mounted quickly. Rejected by her mother, the filly would need to be accepted and nursed by another mare. As she grew, the tall, knock-kneed girl remained skinny and scruffy, with paltry muscles. Considered an "ugly duckling," she was unsuitable as a champion racehorse, her owner proclaimed, and must be sold. But two days before the sale, an examination revealed a medical condition—now she was impossible to sell! What would become of this problem filly?

Alexandra the Great tells one of the greatest underdog tales in American sports—the story of Rachel Alexandra, who grew up to become one of the most remarkable racehorses in history. Despite dominating every filly her age, her owner refused to let her compete against male horses. When a new owner saw her potential and raced her against bigger, stronger males, Rachel Alexandra thrived and went on to win the Preakness, the first filly to do so in 85 years, and the Woodward, a feat never before achieved by a filly. Having grown into a strong, muscular, dominating athlete, Rachel Alexandra was named 2009 Horse of the Year, broke records, graced the pages of Vogue magazine, and showed people around the world exactly what it means to "run like a girl."
 
Including vivid details gleaned from interviews with Rachel Alexandra's owners, veterinarian, beloved jockey Calvin Borel, and more, Alexandra the Great gives readers an exciting and emotional look at both the humans and horses who pour their hearts and souls into the world of Thoroughbred training and racing.
About the Author
Deb Aronson is a freelance writer who specializes in stories about people and animals who have accomplished remarkable things. She is the author of the middle-grades biography E. B. White and a contributor to Muse, a science magazine for middle-grade readers. She lives in Urbana, Illinois.
Praise For Alexandra the Great: The Story of the Record-Breaking Filly Who Ruled the Racetrack…
"This fascinating book will have you cheering, pumping your fist, and holding your breath as Rachel Alexandra races her way into your heart and stays there. Perfect for young readers who love horses, and even those who don't."  — Maggie Dana, author of Timber Ridge Riders

"Aronson's telling of Rachel Alexandra's story proves that the best athletes can be role models, and sometimes those athletes need not be human to inspire us." —Brendan O'Meara, author of Six Weeks in Saratoga
"This vivid, swiftly moving story showcases Rachel Alexandra's heart, grace, perseverance, and sheer athletic power that earned her the love and admiration of everyone around her. It also suggests how female athletes can shine when given the opportunity to compete on a level playing field." —Susan Richards, author of Chosen by a Horse, Chosen Forever, and Saddled
"A straightforward biography of one of thoroughbred racing's greatest mares." —Kirkus Reviews

"Aronson's primary and excellent research shines throughout the book. She knows how to both inform and fascinate her readers. This peek into the world of horse racing is a sure bet to please." —The News-Gazette
"Whether a horse enthusiast or new to the sport, there's much to learn from Rachel's story." —Booklist Online
"Bottom line: Deb Aronson's Alexandra the Great is a good read--touching, suspenseful and uplifting—a tale for the ages." —Equisearch.com

"I highly recommend this book if you want a readable, action-packed and moving story." —SmilePolitely.com 
"…Alexandra the Great is a great basic biography of one of the great fillies of recent racing history, and its easy-to-read style makes it appealing and informative to younger readers." —Horse Nation
"Aronson does an amazing job of combining knowledge of the sport, interviews with experts, and perfect descriptions of action to create a story that even readers with little interest in the sport will love." —VOYA
or
Not Currently Available for Direct Purchase