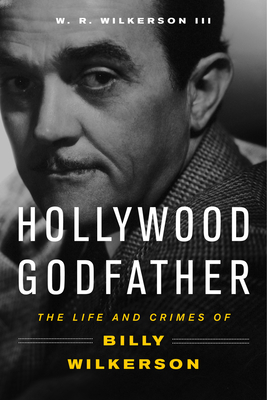 Hollywood Godfather (Hardcover)
The Life and Crimes of Billy Wilkerson
Chicago Review Press, 9781613736609, 352pp.
Publication Date: September 4, 2018
* Individual store prices may vary.
Description
   Billy Wilkerson was the most powerful man in Hollywood during the 1930s, '40s, and '50s. He was owner and publisher of the Hollywood Reporter, the film industry newspaper that became known as "Hollywood's bible," and he built the Café Trocadero and other legendary nightspots of the Sunset Strip. In thirty years as Tinseltown's premier behind-the-scenes power broker, Wilkerson introduced Clark Gable and Lana Turner to the world, brought the Mafia to Hollywood, engineered the shakedown of the Hollywood studios by Willie Bioff and his mob-run unions, helped invent Las Vegas, tangled with Bugsy Siegel (and possibly was involved with his murder), touched off the Hollywood blacklist, and conspired to cripple the studio system.
   Perhaps nobody in Hollywood history has ever ruined so many careers or done so much to reshape the movie industry as Billy Wilkerson, yet there has never been a solid biography of the man. Billy's son, William R. Wilkerson III, has done tremendous research on his father, interviewing over decades everyone who knew him best, and portrays him beautifully—and damningly—in this book.
About the Author
W. R. Wilkerson III is a Hollywood historian who has lectured widely, made numerous radio and TV appearances, contributed to publications including the Los Angeles Times, the Hollywood Reporter, USA Today, the Herald Examiner, and the LA Weekly, and written several books.
Praise For Hollywood Godfather: The Life and Crimes of Billy Wilkerson…
"Scandal at the Dream Factory! Based on unique and original research, Willie Wilkerson's sparkling new book provides devastating insight into the history of organized crime in Hollywood."—ROBERT LACEY, historical consultant, The Crown, and author of The Year 1000, Great Tales from English History, Inside the Kingdom, and Monarch
"Willie Wilkerson's biography of his father fascinatingly illuminates the life of one of Hollywood's most important, dashing, but unsavory
historical figures. Read it and encounter a storybook raconteur—and be transported to a magical time when America's western outposts, Los Angeles and Las Vegas, were turning from orange tree pastures and deserts to the centers of the dark side of American culture." — SHEILA WELLER, author of Girls Like Us and Dancing at Ciro's
"Billy Wilkerson's lawyer called him a 'desperado'—bold and reckless. Willie Wilkerson's poignant telling of his father's story reveals the good, the bad, and the ugly of one of the twentieth century's most influential publishers. Like a Mississippi riverboat captain, Billy Wilkerson held high society in one hand and organized crime in the other. This is a masterfully written must-read for anyone who wants to know the truth about what happened behind the velvet ropes of Hollywood's golden age."—B. JAMES GLADSTONE, author of The Man Who Seduced Hollywood
"Mr. Wilkerson's fascinating book, with its marvelous anecdotes and pause-giving speculations, reads like the wind."—The Wall Street Journal
"Payoffs provided a generous living for gangsters like "Handsome Johnny" Rosselli, who with his Chicago allies orchestrated the treaty, with the help of Wilkerson, publisher of The Hollywood Reporter, who provided his own mob contacts as well as friendly press coverage. Wilkerson's son, W.R. Wilkerson III, details this curious alliance in his candid and well researched book, Hollywood Godfather." --Deadline