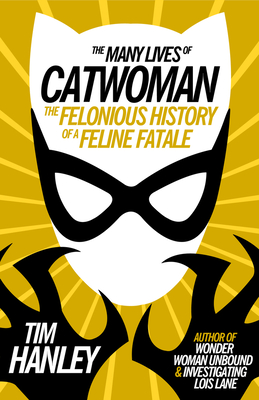 The Many Lives of Catwoman
The Felonious History of a Feline Fatale
Paperback

* Individual store prices may vary.
Other Editions of This Title:
Digital Audiobook (6/30/2017)
MP3 CD (7/1/2017)
Compact Disc (7/1/2017)
MP3 CD (7/1/2017)
Compact Disc (7/1/2017)
Description
For more than 75 years, Catwoman has forged her own path in a clear-cut world of stalwart heroes, diabolical villains and damsels in distress. Sometimes a thief, sometimes a vigilante, sometimes neither and sometimes both, the mercurial Catwoman gleefully defies classification. Her relentless independence across comic books, television and film appearances set her apart from the rest of the superhero world. When female characters were limited to little more than romantic roles, Catwoman used her feminine wiles to manipulate Batman and escape justice at every turn. When male villains dominated Gotham on the small screen, Catwoman entered the mix and outshone them all. When female-led comics were few and far between, Catwoman headlined her own series for over 20 years. True to her nature, Catwoman stole the show everywhere she appeared, regardless of the medium. But her unique path had its downsides as well. Her existence on the periphery of the superhero world made her expendable, and she was prone to lengthy absences. Her villainous origins also made her susceptible to sexualized and degrading depictions from her primarily male creators in ways that most conventional heroines didn't face. Exploring the many incarnations of this cultural icon offers a new perspective on the superhero genre and showcases the fierce resiliency that has made Catwoman a fan favorite for decades.
Praise For The Many Lives of Catwoman: The Felonious History of a Feline Fatale…
"Catwoman is the best known and longest running femme fatale in the comics world, with a history behind her creation as sensationally sordid as the feline temptress herself. Tim Hanley, with his uncanny mind for digging out hidden trivia of popular comic characters brings out a side of Catwomen few know, with frank honesty of all her virtues and flaws. This book perfectly distills the complicated 70+ year history of DC's bad girl with a heart of gold. An engaging, entertaining and vastly enjoyable history!" —Hope Nicholson, author, The Spectacular Sisterhood of Superwomen

"Feed your kitty now, because once you start reading, you won't be able to stop. Tim's words are as mesmerizing as Catwoman herself." —Adrienne Barbeau, actress and voice of Catwoman in Batman: The Animated Series, and author of There Are Worse Things I Could Do

"Tim Hanley has done it again! His comprehensive history of Catwoman is as engaging and enlightening as his masterworks on Wonder Woman and Lois Lane. As in his previous books, Hanley walks us from Catwoman's on-paper origin through her myriad film and TV incarnations to her modern place in comic books, pulling on cultural and political threads to reveal what makes the world's most famous femme fatale a truly unique feminist hero. Catwoman has outlasted the male artists and writers who have perpetually denied her agency and projected their sexual fantasies onto her. In Hanley, she finds a writer who finally succeeds in honoring her voice." —Heather Hogan, senior editor, Autostraddle

"Source notes, a bibliography, and an index enhance this scrutiny worthy of a literary scholar - or a devoted comic book connoisseur! The Many Lives of Catwoman is a "must-read" for Catwoman fans, highly recommended."—Midwest Book Review

"Comic book fan or not, The Many Lives of Catwoman offers an interesting look at society's perception of women over the decades through a fictional avatar used by writers and artists to work through their own issues, misogynistic or otherwise." —PopMatters

"Featuring trademark obstacles, unappreciated talent, and a bittersweet ending for Finger, Hanley's meticulously researched work sinks its teeth into meaty, historically significant subjects, including female gender stereotypes and homoeroticism." —Booklist Online

"Hanley's writing is comprehensive and straightforward, and fans and newbies alike will take great pleasure in reading about Catwoman's journey." —Publishers Weekly
Chicago Review Press, 9781613738450, 304pp.
Publication Date: July 1, 2017
About the Author
Tim Hanley is a comic book historian and the author of Wonder Woman Unbound: The Curious History of the World's Most Famous Heroine and Investigating Lois Lane: The Turbulent History of the Daily Planet's Ace Reporter. He also contributed to Wonder Woman Psychology: Lassoing the Truth, and his work has appeared in the Atlantic, the Los Angeles Review of Books, and the Comics Journal. He lives in Halifx, Nova Scotia.