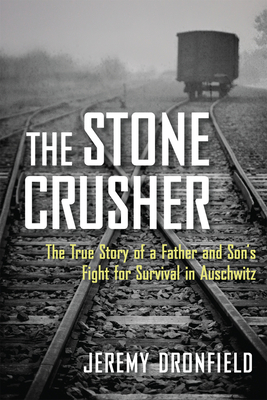 The Stone Crusher (Hardcover)
The True Story of a Father and Son's Fight for Survival in Auschwitz
Chicago Review Press, 9781613739631, 400pp.
Publication Date: July 1, 2018
Other Editions of This Title:
MP3 CD (7/1/2018)
Compact Disc (7/1/2018)
* Individual store prices may vary.
Description
In 1939, Gustav Kleinmann, a Jewish upholsterer in Vienna, was arrested by the Nazis. Along with his sixteen-year-old son Fritz, he was sent to Buchenwald in Germany, where a new concentration camp was being built. It was the beginning of a six-year odyssey almost without parallel. They helped build Buchenwald, young Fritz learning construction skills which would help preserve him from extermination in the coming years. But it was his bond with his father that would ultimately keep them both alive. When the fifty-year-old Gustav was transferred to Auschwitz—a certain death sentence—Fritz was determined to go with him. His wiser friends tried to dissuade him—"If you want to keep living, you have to forget your father," one said. But that was impossible, and Fritz pleaded for a place on the Auschwitz transport. "He is a true comrade," Gustav wrote in his secret diary, "always at my side. The boy is my greatest joy. We are inseparable." Gustav kept his diary hidden throughout his six years in the death camps—even Fritz knew nothing of it. From this diary, Fritz's own accounts, and other eyewitness testimony, Jeremy Dronfield has constructed a riveting tale of a father-son bond that proved stronger than the machine that sought to break them both. 
 
About the Author
Jeremy Dronfield is a biographer, historian, novelist, and ghostwriter. Following a career in archaeology, he began writing fiction. His titles include the bestselling thriller The Locust Farm and The Alchemist's Apprentice. His recent nonfiction includes the bestselling Beyond the Call and Dr James Barry: A Woman Ahead of Her Time. His website is jeremydronfield.com.
 
Praise For The Stone Crusher: The True Story of a Father and Son's Fight for Survival in Auschwitz…
"Heart-wrenching yet compelling, The Stone Crusher is the vivid true story of a father and son's survival of absolute horror. Beautifully written, deeply poignant in its detail, it is a necessary testament today in the fight against Holocaust denial." —Helen Fry, author of The London Cage: The Secret History of Britain's World War II Interrogation Center
Praise for Jeremy Dronfield's Previous Books:

"Vivid and engaging...a moving and appalling tale of the full horror of World War II's last year on the eastern front." —Randall Hansen, author of Fire and Fury: The Allied Bombing of Germany, 1942–1945

"An elegant and sensitive biography...[an] absorbing book." —Times (London)

"Immensely enjoyable. It's a fascinating story, told with verve, sensitivity, and skill—the result of an awe-inspiring amount of research and detective work, managed with delicacy and flair....A marvellous read, and a story worth telling." —Rodney Bolt, author of The Librettist of Venice 

"This book could read like a thriller, yet the thorough research here provides a weightier feast...a well-researched and well-ordered biography." —Spectator

"Meticulously researched and written with great verve, this biography is about as good as it gets." —Neil McKenna, author of The Secret Life of Oscar Wilde

"A scintillating portrait...that feels almost Dickensian in style." —Guardian

"A riveting, tense, and ultimately satisfying account." —Booklist
"The horrors of the Holocaust are effectively conveyed on a human scale in this gripping account." —Publishers Weekly