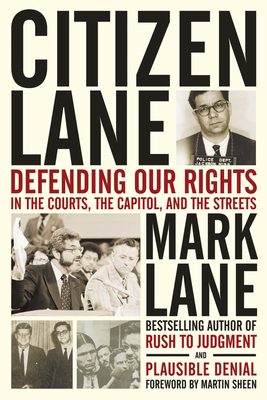 Citizen Lane: Defending Our Rights in the Courts, the Capitol, and the Streets (Hardcover)
Defending Our Rights in the Courts, the Capitol, and the Streets
Lawrence Hill Books, 9781613740019, 372pp.
Publication Date: June 1, 2012
* Individual store prices may vary.
or
Not Currently Available for Direct Purchase
Description
Freedom Rider, friend of Eleanor Roosevelt, Dick Gregory's vice-presidential running mate, legal defense at Wounded Knee, survivor of the Jonestown Massacre Mark Lane has been inspiring social consciousness, influencing history makers, and inciting controversy for more than six decades. In "Citizen Lane" he tells the story of his remarkable life, demonstrating how a single dedicated individual can fight for the underdog, provoke the establishment, and trigger change. From the streets to the courtroom, he has been on the front lines in the events that shaped a generation in opposition to government excesses and war. Icons of the American political and social landscape appear throughout his narrative as Lane's cohorts and companions and as his vicious opponents. Radical leaders embraced him; the FBI and CIA tried to destroy him. No one who dealt with him had a neutral reaction to his forceful, larger-than-life persona. Entertaining and enlightening, this autobiography confirms that one person can make a difference and change the lives of millions by holding to his principles regardless of the consequences.
About the Author
Mark Lane" "is a lawyer, a former member of the New York State legislature, an author, and an activist. He is the bestselling author of "Rush to Judgment" and "Plausible Denial."Martin Sheen is a distinguished actor, an activist, and the recipient of many awards, including the Laetare Medal, the most prestigious honor for an American Catholic."
Praise For Citizen Lane: Defending Our Rights in the Courts, the Capitol, and the Streets…
"Citizen Lane is at once lighthearted, joyous and suspenseful. Not just a great read, Lane's unique journey is an essential example in a jaded world of how one man can affect great change. . . . Mark Lane's life, which he has written over the years with deeds, not words, has been an inspiration to me and the reason that I am an activist for the powerless. For all the struggles and suffering, defeats and victories, Citizen Lane is the magnificent American story of hope. If you read one book this year, even this decade, this is the one."  —Martin Sheen, from the foreword


"Although my views about Lee Harvey Oswald and the assassination of President Kennedy are well known, I am convinced, and have been for a long time, that had Mark Lane, with his skill and knowledge of the case, represented him at trial, Oswald would have been acquitted." —Gerald Posner, author of Case Closed

"Citizen Lane is a major contribution to the cause of equal justice in America. Lane has risked his life for us on more than one occasion, and even more than that, he has applied his incredible skill to cases and struggles all throughout our country. His work is unparalleled because his life has been."  —Dick Gregory


"Mark Lane's inspirational life is told here in riveting, page-turning fashion.  Lawyer, prolific author, state legislator, civil rights activist, peace advocate, and lifelong crusader for the kind of justice the courts and the constitution should but often fail to provide, Lane draws together in this autobiography his many previous books as well as his long duels with the CIA and lesser centers of power."  —Paul Gaston, professor emeritus of American history, University of Virginia

"Mark Lane has dedicated his life to furthering constitutional principles and admirable ethical standards. With integrity, courage, and righteousness as his shield and passionate rational persuasion as his sword, Mark Lane has confronted evil and demanded justice. Undaunted, he shares with our Founders a commitment to keep our institutions and the marketplace of ideas vibrant, open, democratic, and transparent. Read his fascinating memoir, Citizen Lane.  It is terrific: well documented, dramatic, and brilliantly crafted."  —Robert K. Tanenbaum, director of the Congressional Committee investigating the assassination of President Kennedy


"I regret the attempts to destroy Mr. Lane."  —David Atlee Phillips, Director of the CIA for the Western Hemisphere

"Readers may not recognize the author's name, but he has been fighting for the rights of underdogs for nearly 60 years … As one would expect of a person of this caliber, Lane's story focuses on the needs of those he served rather than the extraordinary part he played in so many lives."—Kirkus Reviews
Advertisement